Nova Refugee
Member Since 21 Mar 2009
Offline
Last Active Jul 24 2009 12:11 PM
About Me
I Bash you!
Hehehehe....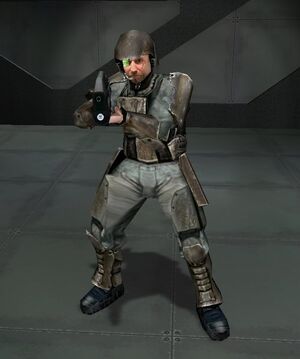 FALL BEFORE HIS AR!!!! Mwahahahahahahahahaha!!!
But Really.... I'm In your base, OWNING your N
00
bs
I am Starting to write a new Sci-Fi series. It's Pretty good!
Here, I'll Give you an exerpt: Chapt. 2: If you Want it Done Right...
Jason Sat back and strapped himself in. He had already loaded his gun, Turned on his Info Screen, and strapped on his Helmet.
It was a routine scouting mission, and had to be done. If not, the Gorrggons would have half this sector alredy. The Ship was a "Biggore" Heavy Dropship that looked like a flying box and could fit 20 Zealots, plus a "Warpig", A Gargantuan Tank with a 150mm barrel.
The doors Shut, and sealed themselves. He watched as the "Biggore" pulled away from the Port New Hope Hangar and into the clouds. Even though the "Biggore" was huge, he still felt like he was confined even though there was only 5 od them, and a "Rabbit" Raider FAV. The "Rabbit" looked like a Jeep Wrangler, except it's chasis was shortened, a 360 Degree Rotating "Storm" HMG Placed on top, and some light armour was placed on the sides.
Jason went and joined his buddies, James Garstrett, The new guy who was a former convict of the Militaristic- Imperisisct Empire for "Speaking Heresy". There was Luke Hammer, The Squad leader, who's dad was a founding Zealot. He was a great Marksmen and had a calm, quieted Personality. The other two were the infamous Johnson twins. They were always Quiet, and knew their way around on their homeplanet, Gannesian.
---
Community Stats
Group

Member

Active Posts

419

Profile Views

5,829

Member Title

SSLF's Unofficial Loser

Age

24 years old

Birthday

July 26, 1996

Gender

Not Telling

Location

In Your Base....

Interests

My Interests include Paintball, Halo, Lego, and Warhammer 40k. Don't forget HOCKEY HOCKEY HOCKEY!!!!!!!!!!!!!!!
0
Health: Critical
Viewing Profile: Nova Refugee