So, let's talk wrestling. 
Yes, men wearing abnormally tight pants and pretending to punch each other in the face is still a thing, though wrestling has changed quite a bit from what you may remember from the 80s and 90s. No longer able to rely on blood, scantily clad women, or the appeal of seeing half naked men stare each other down, wrestling has gotten better. In order to get good reactions from modern audiences, wrestlers are now required to move faster, hit (pretend) harder, and pull off more death-defying stunts. Most wrestlers WWE uses nowadays actually know how to wrestler, which is quite an improvement for those of us who had to endure the likes of Heidenreich. 
Anyway, this is a topic for those of us to enjoy wrestling to talk about our most sacred of vices. I find that a lot of wrestling fans are very cynical and angry nowadays, and as such they often overlook some of the awesome things currently happening in the WWE. 
1. AJ Styles and Kevin Owens are the current champs. One short, one fat, these guys never would have gotten the chance to shine decades ago. But now they are the biggest stars in the industry. 
2. The Cruiserweight classic was a thing of beauty and featured wreslters from around the world below 205 pounds fighting in a tournament. Some amazing matches were had during this tournament. And because everyone was so light, they can pull off crap like this:
3. Women's wrestling is now a thing. The women's title was the main event of the Hell in a Cell pay-per view recently, and while it was far from perfect (the women involved had little experience with hardcore matches like these), it was still historically significant and the crowd was hyped.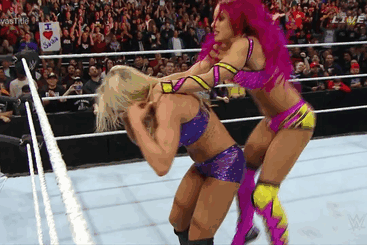 4. Not all wrestling is fake. Ask the Japanese stars who typically kick each other for real. Hard. And one of them, Shinsuke Nakamura (a.k.a., Kung-fu Michael Jackson), holds the title in NXT, the best brand in modern day wrestling. 
5. The entrance music. 
So yeah, talk wrestling both past or present, WWE and indy. Wrestling is relevant now you guys! A WWE Hall of Famer is president.
Just keep things respectful. And don't make fun of it just because its fake: the average wrestling fan is well aware. So be respectful or you might be put on the list.