miragefla
Member Since 12 Jul 2008
Offline
Last Active Oct 31 2017 05:43 PM
About Me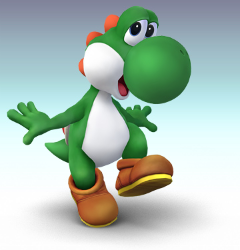 As you can see Yoshi is probably my favorite character of all time partially because he's cute, and partially that he's a dinosaur...who wears shoes. It all started back when I got my first N64 game of Mario Kart 64 and ever since then I've stuck with the Yoshi and probably for the rest of my life unless Nintendo does something crazy that will scar me for life about Yoshi.
On this fourm my name is mirage, but what I use in most games, Steam, Origin and all those other services is miragefla which was actually a mistake. It was due to Red Alert 2 when I first created an account for online play and tried to enter mirageflak(yes, not creative) and as the 'k' could not be included it resulted in miragefla and that's been my online name ever since; the other alternative when I've used that for other character, etc is miragefl, simple, yet effective.
In terms of my interests, I'm an avid Warhammer 40k player, having started at the age of 14-15 starting with Imperial Guard, Necrons, and now Chaos Space Marines. This results in different playstyles, the first is a mechanized list, the next a footslogger list with vehicle firesupport and the last I plan to have as a close-combat foothorde. I also like video games, especially real-time strategy. I won't say I'm the best, but I do like to consider myself above average given the amount of ranked games I play for RTS games, though I have gone closer to FPS and RPGs. I am, however, choosey about the games I play and unless it sparks my interest, I likely won't buy it or even demo it.
What could be considered part insanity and eccentricity would also be my ramblings/voice recordings that I put up from time to time, not to mention I tend to mumble random voice lines from other games times to time, often in different voices. This is likely due to video games, but I have grown to love good voice acting in games for it makes them come alive and we have come quite far when voice acting was a minor part of video games. If only I could be one of those voice actors than my life would be complete.......
Military history and technology is also something I love and history in general. Finding things on the past, their causes and reasons and how they affect things. Out of all things I've learned from school and continue to learn, this is the thing that has stuck to me the most. 
Favorite thing to play games on is obviously the PC, though I've been trying to get into console, if simply for fighting games, but it's hard and I need more time so I can play both in a day for an extended duration, never enough time, never enough.
---
Community Stats
Group

Nova Member

Active Posts

2,888

Profile Views

42,897

Member Title

Packcorn

Age

27 years old

Birthday

September 1, 1993

Awards Plaque

wulfgard_kickstarter

Gender

Male

NR Faction

Victory

WG Faction

Imperial

Location

M18 Hellcat speeding down a Highway chasing cars in Canada

Interests

-Playing video games
-Learning about history from the past
-Warhammer 40k
-Voice Acting
-Game Design
Contact Information
1133
Health: Excellent
Viewing Profile: miragefla