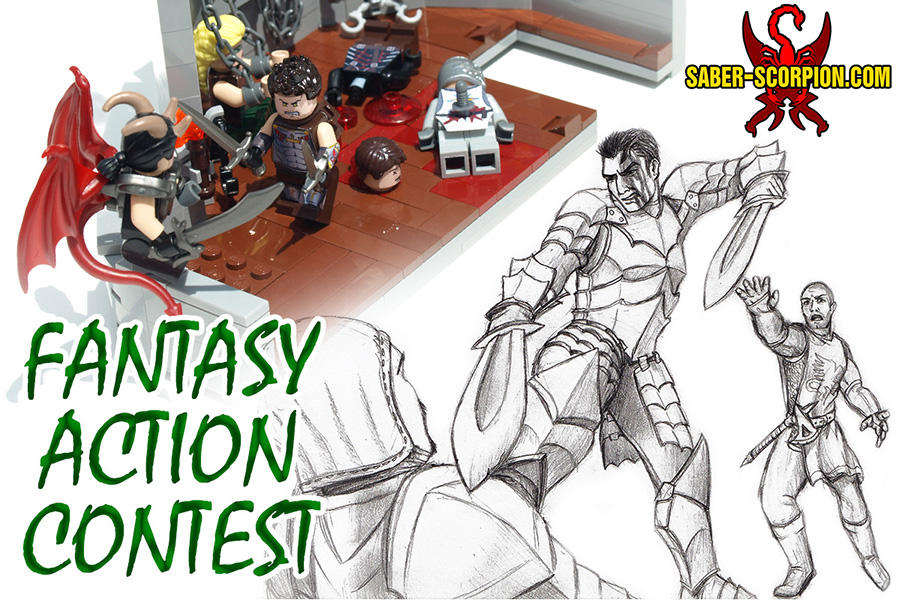 This contest is all about ACTION! And since our Wulfgard Kickstarter project is still running (it ends May 17), it's all about MEDIEVAL FANTASY action!
Your challenge, should you choose to accept it, is to either DRAW, WRITE, or BUILD (with LEGO) a fantasy action scene! Then post it here for our judges to evaluate. Once all entries have been scored, you could win one of several cool prizes! For more details, keep reading...

 
Your challenge is to create a tense and action-packed scene in a medieval fantasy setting. You can make an entry of any of the following types:
ART: Draw the most action-packed scene you possibly can. It can be a single image or a sequence of up to eight images (like a six-frame comic page).
WRITING: In 2000 words or less, briefly introduce and then play out an action-packed scene to its conclusion.
LEGO: Build a vignette or diorama of an action scene in LEGO form (as in our previous LEGO Duel Vignette Contest), or make an action-packed LEGO comic of six frames or fewer.
Then just post your entry in a reply to this thread! If your entry consists of several large images or a large block of text, you may post it elsewhere (such as in our LEGO board or art & writing boards) and then link to your topic in a reply here.
 
The entry limit is two (2) entries per person. The current DEADLINE is June 8.

 
Here are some additional rules and guidelines to consider. Feel free to ask questions, and the answers will be added to the FAQ below.
Your action scene should be as INTENSE as possible, but it DOES NOT NEED TO BE VIOLENT. You can present a chase scene, for example. Or some adventurers avoiding traps. Or a wizard trying to tame a dragon. Or, yes, you can do a fight scene with lots of blood like the ones in our header image. 
You can either use a generic medieval-fantasy setting, or an existing one (LotR, D&D, Elder Scrolls, etc.) - including Wulfgard, our own fantasy setting! We'd love it if you would choose Wulfgard, but it's not required and will not give you an advantage in the contest.

 
Your entry will be judged on its quality and on the intensity of the action presented - the more intense, the better! Judges will include me (Saber-Scorpion), Maverick-Werewolf, and at least three volunteers. If you'd like to volunteer to judge, just ask in a reply! It's first come, first serve, except that certain forum ranks will take precedent (Wulfgard supporter > Nova Member or Moderator > Freebie).
Winners will get the following prizes:
If we get enough entries, we MAY split the winners into groups by medium - in which case we could have an Art winner, Writing winner, and LEGO winner. In that case, each group will have one gold winner!
LEGO entries:
The Desert Snake (LEGO) by Darkwoods (same album as above)
Art entries:
Writing entries: