1
Wrestling Wednesday #2: Chris Jericho
Posted by
Hawk
, 21 February 2017 · 1,930 views
Its time for Hawk's Wrestling Wednesday, the greatest wrestling blog on the entirety of the internet, and if you disagree you're a stupid idiot! Obviously, I'm a pretty big wrestling fan ("GASP, really?") and I am a huge fan of the video "Wrestling Isn't Wrestling" which was pretty popular when it was first released. The video, which you can view
here
(fair warning, its nsfw at points) chronicles the career of one of WWE's greatest superstars, Triple H, and analyzes the story that was told over his career. I always felt that it was a shame that more videos weren't produced looking at the overall careers of other wrestlers because, in my opinion, there are many others beyond Triple H worth looking into! This time around, we're going to be looking at the inventor of the phrase "Stupid Idiot" and the man who I love to post animated gifs of on this forum. Its time to break down the walls and talk about...Y2J.
Wrestling Wednesday #2: Chris Jericho
In my opinion, there is no performer in the history of professional wrestling as proficient in all categories of being a WWE superstar (delivering promos, performing in the ring, and telling a story) than Chris Jericho. While he may not be my personal favorite performer, it is hard to debate Chris Jericho's status as one of the greatest performers of all time. However, Chris Jericho was not a superstar overnight. In fact, compared to many of his contemporaries, Chris Jericho is relatively unimpressive. He's not as freakishly muscular as Triple H or Hulk Hogan were in their prime. He wasn't able to immediately attract the attention of the entire crowd with a microphone in his hand like the Rock or Stone Cold. Yet, despite the fact that he had to work harder than these guys to make it in the world of professional wrestling, Chris Jericho was absolutely a rockstar.
Chris Jericho began training in the Hart Family Dungeon, which wrestling fans may associate with legendary wrestler Bret Hart. In Bret Hart's autobiography, he explains how his family's basement became known as the Hart Dungeon due to the horrific teaching methods of his father, Stu Hart. Young Bret would see incredibly large and tough looking athletes scream and cry like babies once his dad got his hands on them. Stu, much like Bret, was a masterful technical wrestler who loved to start his training by placing his students in a variety of very painful and very real wrestling holds to see if they were tough enough to be a professional wrestler. For Chris Jericho, surviving the Hart Dungeon was a great way to start his career, and he is still a masterful performer in-between the ropes.
Jericho began his career traveling the globe and performing for many different wrestling promotions. Many casual fans are shocked to learn that there is way more to professional wrestling than just what  happens within the WWE, as every country seems to have its own unique style. In Mexico, the Lucha Libre style emphasizes speed and high-flying aerial maneuvers. Japanese wrestlers incorporate elements of martial arts into their performances and are notorious for actually hitting their opponents. In the United Kingdom, meanwhile, technical wrestling is valued and many older wrestlers are able to continue lengthy careers solely due to how skilled they are in the ring. And those three areas are just a sample of the many different wrestling styles that are out there, and Chris Jericho had experience with all of them. Because Jericho did not start in the WWE, he was exposed to a plethora of different styles that make him a much better wrestler as a result.
However, it was only a matter of time before a performer as talented as Chris would get picked up by a company with deeper pockets, and after a short stint in the notoriously brutal Extreme Championship Wrestling, Jericho was signed by World Championship Wrestling, which was by far the biggest competitor the WWE ever experienced.
Chris Jericho and his ridiculous hair in WCW
I'm not going to give a full history of the Monday Night Wars, but suffice it to say that Vince McMahon's WWE was competing with Ted Turner's (owner of Turner Broadcasting Station, a.k.a. TBS and many other media producers) WCW. WCW used to be a blip on WWE's radar until they brought in some of the WWE's biggest stars like Hulk Hogan and Kevin Nash to compete for them with a little bit of help from Turner's deep pockets. WCW would eventually implode in on itself due to mismanagement, but both of these companies were throwing around a lot of money to get the best wrestlers in the world to sign with their promotion. Chris Jericho was one of these talents and he was made into part of WCW's cruiser-weight division.
WCW's cruiserweight division is the stuff of legend for wrestling fans as it brought in performers from across the globe and incorporated a plethora of different styles. High flying luchadores competed against hard-hitting Japanese wrestlers and technical masterminds like Dean Malenko. Many of the greatest wrestlers of all time, including Rey Mysterio Jr., Eddie Guerrero, and Chris Benoit all competed in the cruiserweight division at some point. However, in addition to being great in between the ropes, Jericho was also very entertaining and would go out of his way to get the audience's attention. My favorite example of this was when Chris Jericho was feuding with the aforementioned Dean Malenko, who was nicknamed the "man of a thousand holds." To one-up him, Jericho claimed that he was the "man of a thousand and one holds" and to prove it he went to the ring and began reading off a list of all the holds he knows (which he frequently repeated). It went on so long that Jericho was still reading his list after a commercial break!
Unfortunately, cruiserweights had a limited ceiling in WCW. With giant wrestlers like Kevin Nash, Hulk Hogan, the Giant (Big Show), and Goldberg dominating the main event scene, the leaders of WCW did not see how audiences would pay to see Chris Jericho, who was only 6 feet tall, compete against their biggest stars. However, Vince McMahon felt that Jericho had potential to be a star, and was eager for the opportunity to steal one of WCW's more promising performers. As such, during the peak of the Monday Night Wars, Jericho made what was perhaps the most famous debuts in all of sports entertainment.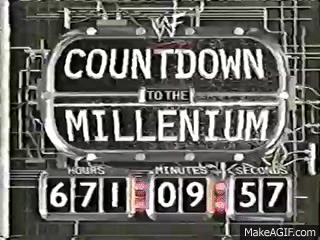 The Countdown to Y2J
In the weeks leading up Jericho's debut, WWE started showing a massive countdown clock that simply said "Countdown to the Millennium." What exactly the clock meant in regards to wrestling was a big mystery, but as the episodes went by, the clock slowly got closer and closer to 0. Finally, when the clock reached 0 in the middle of one of the Rock's promos, Jericho's name appeared on the screen in giant letters and the crowd went nuts once they recognized who he was. Jericho's new character was that of an arrogant young wrestler who carried himself like a rockstar, complete with ridiculous hair, who was not afraid of calling out anyone on the WWE roster, including the Rock. He referred to himself as "Y2J" in reference to the
Y2K
problem people were in fear of at the time. At the time, the Rock was already one of the WWE's biggest stars, and having Jericho debut during one of his segments was a huge sign of the confidence Vince McMahon had in him.
Yet, despite his arrogance and obvious talent, Jericho did not yet have reason to feel so proud of himself. It was one thing to grab a microphone and claim that you were on the level of some of wrestling's biggest names like the Rock and Stone Cold. It was another thing entirely to actually back-up such a claim. As such, while Jericho did have some notable feuds with the likes of Kurt Angle and Triple H at the time, it was not until WWE's "Vengeance" event in 2001 when Jericho took his spot among the immortals of wrestling. After WCW went under, WWE bought the company and brought over many of their stop stars and championship belts. As such, WWE now had two belts in he company, one from them and the other from WCW, that were recognized as world championships. It was on this night at Vengeance that Jericho defeated the Rock and Stone Cold in the same night in order to hold both belts at the same time as the first "Undisputed Champion."
I can't emphasize enough how big of an event this was in terms of wrestling history. WCW and WWE were the biggest companies to ever exist in the world of wrestling, and for one man to hold the top championships of both promotions at the same time was unheard of and it brought Chris Jericho to a whole different level of stardom. In my previous blog about Naito, I discussed how championship belts were really just props, but sometimes holding a title belt feels really special. As Chris Jericho himself often described it, it felt amazing to imagine that if the world were to end at that moment, he would die as the Undisputed Champion. Finally, Jericho had a reason to be so cocky. Even though there were other Undisputed Champions since, Jericho will always be mentioned in wrestling history books as the first.
Jericho Undisputed Champion
Thus far, Jericho's career has been somewhat remarkable. As a small man who had held multiple world championships, (by WWE standards, not real world standards) Jericho opened doors for other smaller wrestlers (such as Daniel Bryan and CM Punk) to follow in his footsteps. However, Jericho was not the first of his time. The first small wrestler who really broke down barriers was Shawn Michaels, the Heart Break Kid. I won't talk too much about HBK here as this blog is about Jericho, but Michaels is one of those names that has become synonymous with wrestling. If you asked any of the best wrestlers in the world today who their favorite performer of all time was, their answer would most likely be Shawn Michaels for very good reason. There are few men as good at telling a story in the ring as Shawn Michaels...except for Chris Jericho.
Since Chris Jericho and Shawn Michaels were both small men who managed to become world champions, WWE decided to have the two feud into Wrestlemania 19. Jericho was presented as a young wrestler who grew up idolizing the comparatively older HBK, which in large part was true in and outside of the ring. However, Chris Jericho was not content with simply being Michael's equal: he wanted to surpass him. In one of my favorite Wrestlemania moments, Jericho and HBK embraced after their match, only for Jericho to take advantage of Michael's kindness and hit him with a low blow to the groin (remember this point, we will reference it again later).. Jericho had completed his transformation into perhaps the most egotistical character in WWE history.
In fact, if there is one thing that has been consistent throughout the character of Chris Jericho, it has been his ego. Jericho was a man who viewed himself as a rockstar, and everyone else was beneath him. Jericho has been both a fan favorite and a despised villain throughout his WWE career, but the only time Jericho was ever world champion was when he was a bad guy. Consistency like this is rare to find in the world of wrestling because new stories need to be told every week.
The Betrayal
It is really difficult for a talented wrestler to get the audience to hate them. After working in the industry for 15 years, Jericho decided to take a break. During his hiatus from the WWE, Jericho went on to become the lead singer of a metal band called "Fozzy," making him both a rockstar for his wrestling gimmick and in real life. However, after taking on some acting gigs, Jericho would return in 2005 to kick off what is often considered by many hardcore wrestling fans to be one of the greatest wrestling feuds of all time. Once again, the opponent is Shawn Michaels and in my opinion the storytelling in this feud is masterful regardless of medium (by which I mean, it's good storytelling by more than just the standards of wrestling).
To give some context, Shawn Michaels had recently retired Ric Flair at Wrestlemania. Ric Flair, for those of you who do not know, is another one of those wrestlers who is constantly in the conversation for being the "greatest of all time." It was a very emotional event and Shawn Michaels was as popular as ever. As Michaels fought Batista (who you may know as Drax from Guardians of the Galaxy),, Jericho implied that Michaels enjoyed retiring Ric Flair by beating him in his last match, prompting Michaels to attack him. Because of his involvement, Jericho was made into the special guest referee for Michael's match against Batista. The problem, however, is that Michaels finds that he cannot beat Batista by playing fair. He fakes an injury to his leg, allowing him to catch Batista by surprise and win the match. Jericho would accuse Michaels of cheating, and this is where the story really picked up.
See, when you've been a professional wrestler for a long time like Michaels, the crowd will cheer you regardless of what you do. You can go out into the arena and stomp on a puppy, and the crowd would still cheer you because they get to see you perform. As such, even though Jericho was right that Michaels had cheated, the crowd continued to cheer for Michaels regardless. Meanwhile, the crowd booed Jericho when he had tried to do the right thing, prompting him to call the crowd a bunch of "hypocrites." I find this particular point interesting because it is accurate when it comes to wrestling. Everyone knows that wrestling is fake and scripted, so they will cheer for bad guys if they are entertaining because it's not real. And so, Jericho brutally assaults Michaels, sending him through a television screen (remember that point, we'll come back to it).
The Assault
Jericho began claiming that he was an innocent man who was being treated unfairly. In order to transform himself, Jericho stripped his character of everything that had once been appealing about his character. He changed his moveset to rely less on aerial maneuvers and finished off his opponents with a brutal submission move known as the
"Liontamer."
He stopped dressing like a rockstar, and instead wore a suit to the ring. He even altered his music to get rid of the countdown that used to excite the crowd. Jericho was so in tune with his character that, when he was asked for an autograph by a young fan in an elevator, he ignored him in order to keep up his mystique as the bad guy, Jericho would go on to attack Michael's wife by "accident" and, when confronted by his rival, would refuse to even look him in the eyes.
And from there, Jericho would emerge victorious in his feud with Michaels, and he would move on to be the biggest bad guy in all of WWE, even winning the world championship. Jericho would then move on to a period of short runs within WWE followed by long hiatuses. For years, Jericho would either return as a good guy or a bad guy, and seeing him perform always felt special. His feud with CM Punk was particularly noteworthy, as he would mock Punk (a straightedge wrestler who refused to use drugs or alcohol) for having a father who struggled with alcoholism. Regardless of when Jericho returned, he knew how to get the audience to invest in him.
Jericho then returned to WWE in 2014 for the period of his career that inspired me to write up this blog. Jericho, now in his mid-forties, had returned to WWE as a good guy, but he was having trouble competing with some of the WWE's new talents such as Dean Ambrose and AJ Styles. However, losing to some of these newcomers to the WWE did little to deter Jericho's ego. In fact, it only seemed to inflate as Jericho began walking to the ring wearing ugly scarves that he claimed cost him thousands of dollars. In many ways, Jericho felt like an old rockstar who did not realize that he was no longer cool. From there, Jericho would begin adding new catchphrases to his arsenal, including a list he would add people's names to for arbitrary reasons. In no time, Chris Jericho had wrestling arenas around the world cheering for a freaking clipboard known only as "The List of Jericho."
A Fate Worse than Death
From there, Chris began teaming up with another Canadian wrestler by the name of Kevin Owens. In no time, Jericho began claiming that Owens was his best friend, and the homosexual tension between the two could be cut with a knife. At one point, Owens even held Jericho's hand as he was lifted into the air in a
shark cage
"like a sexy pinata." While Jericho and Owens seem like an odd couple, there are plenty of similarities between the two, particularly the fact that they are both short men (by WWE's standards) who had found success through their in-ring abilities and charisma. Owens was handed the title (under circumstances I will probably cover in another blog) and, unfortunately, he often found himself biting off more than he could chew defending his world championship. However, every time Owens was in trouble, Jericho would save him.
From a storyline perspective, Owens also has a lot in common with Jericho in that you should never trust him. Before working on the main roster, Owens started out in NXT (WWE's developmental brand, which has its own show). His friend, Sami Zayn, had recently won the NXT championship after fighting for a very long time to reach the top. On Owen's first day with the company, Zayn had finally reached the peak of NXT. Owens and Zayn were close, having traveled together across the world. Zayn was even Owens's best man at his wedding. However, Owens could never get over the fact that Zayn had been brought into the WWE first. And so, right after Zayn had won the championship, Owens went out to congratulate his friend and helped him back up the ramp. The...he betrayed Zayn by sending him to the ground and
powerbombing
him onto the side of the ring, a move never before seen in WWE.
This was more than just anger on Owens's part. He had a plan. Since he had just debuted with the company, it would take time for him to climb the ladder and reach the top of the promotion. But if he could make the champion at the time, Zayn, hate him so much that he wanted to face him, then he could get a shot early. As I'm sure you can tell, there is a lot to talk about when it comes to Owens, but suffice it to say that he was a dangerous man who ruthlessly took advantage of his friend. But trust him Jericho did, even though he got very little in return. Jericho even went through the trouble of helping Owens to the back the same way he had helped Zayn, only this time without the betrayal. Just another sign of how good at telling a story Jericho is. For once, Jericho chooses to be loyal even when his friend is at his
mercy
.
The Best Painting in WWE History
This storyline between Jericho and Owens culminated in the Festival of Friendship, which was one of the best segments in WWE in a long time. The week before, Jericho placed Owens in a match against Goldberg with Owens's title on the line. As an apology and to show his appreciation of Owens, Jericho decided to celebrate his relationship with Owens in the most spectacular way possible. There were homo-erotic gifts, Vegas dancers, and catchphrases galore. But, towards the end, Owens seems to have had enough of Jericho, and he asks him what the point of all this was. Jericho turns to his best friend and explains that these were some of the best months of his entire career, which is impressive considering how long of a career Jericho has had. It was one of those great moments where the line between reality and storytelling became blurred as, in truth, Jericho was finding it hard to say goodbye. Jericho usually comes and goes with the WWE, leaving after a few months, but Jericho has confessed that he likes working with the new wrestlers so much that he wants to stay. This is especially true with Owens, who he has gone on record of saying that he has more chemistry with him than he did with Michaels. Considering how lauded
their
feud was, that is saying a lot.
Owens apologizes and explains that while this festival was not what he expected, he appreciated the effort Jericho put into it. Owens says that while he does not have anything that could compare to what Jericho had gotten him (including an amazing painting), he did get him a small gift. Jericho opens it and smiles when he finds that it is a new List! But, as Jericho lifts up the clipboard, the audience sees how it has the "List of KO" written on the back (Owens's initials). Jericho asks why his name is on the list before Owens starts beating the crap out of him. Owens has Jericho at his mercy, and in another great parallel, Owens sends Jericho through a television screen much like he did to Michaels. All of that karma had finally caught up to Jericho.
And that's Jericho's career. Obviously, the story is ongoing, and it is likely that Jericho will fight Owens at some point. However, this is the first WWE story I had seen with so much attention to detail, from the way Jericho assists Owens up the ramp to how Jericho meets the same fate as Michaels. Jericho went from being a wannabe rockstar, to a vengeful and angry man tired of the hypocrisy of the WWE audience, and finally to an adorable best friend that you can't help but love. Many of WWE's biggest stars stick with one character throughout their careers, uttering the same catchphrases until the audience gets sick of them, but Jericho was able to completely reinvent himself several times. And for that reason, he earns his spot among the greatest of all time.
And that's wrestling.