Well, it's been 1 year since I ended the last NRVDC (Nova Refuge Vehicle Design Contest), and there are only two major factions left in the galaxy that we haven't covered: the Native factions, Harmony and Helexith! We'll start with the High Council of Harmony...
Objective
The objective of the contest is to design a vehicle (land, sea, air, space, or whatever else you can imagine) for the Nova Refuge faction,
the High Council of Harmony
. This faction consists of two species of Natives: the angelic
Sarran
and aquatic
Achmer
. Each race has its own distinctive style. You may design a vehicle for either one, or for both!
Here is an image I made a while back to illustrate the styles of each NR faction: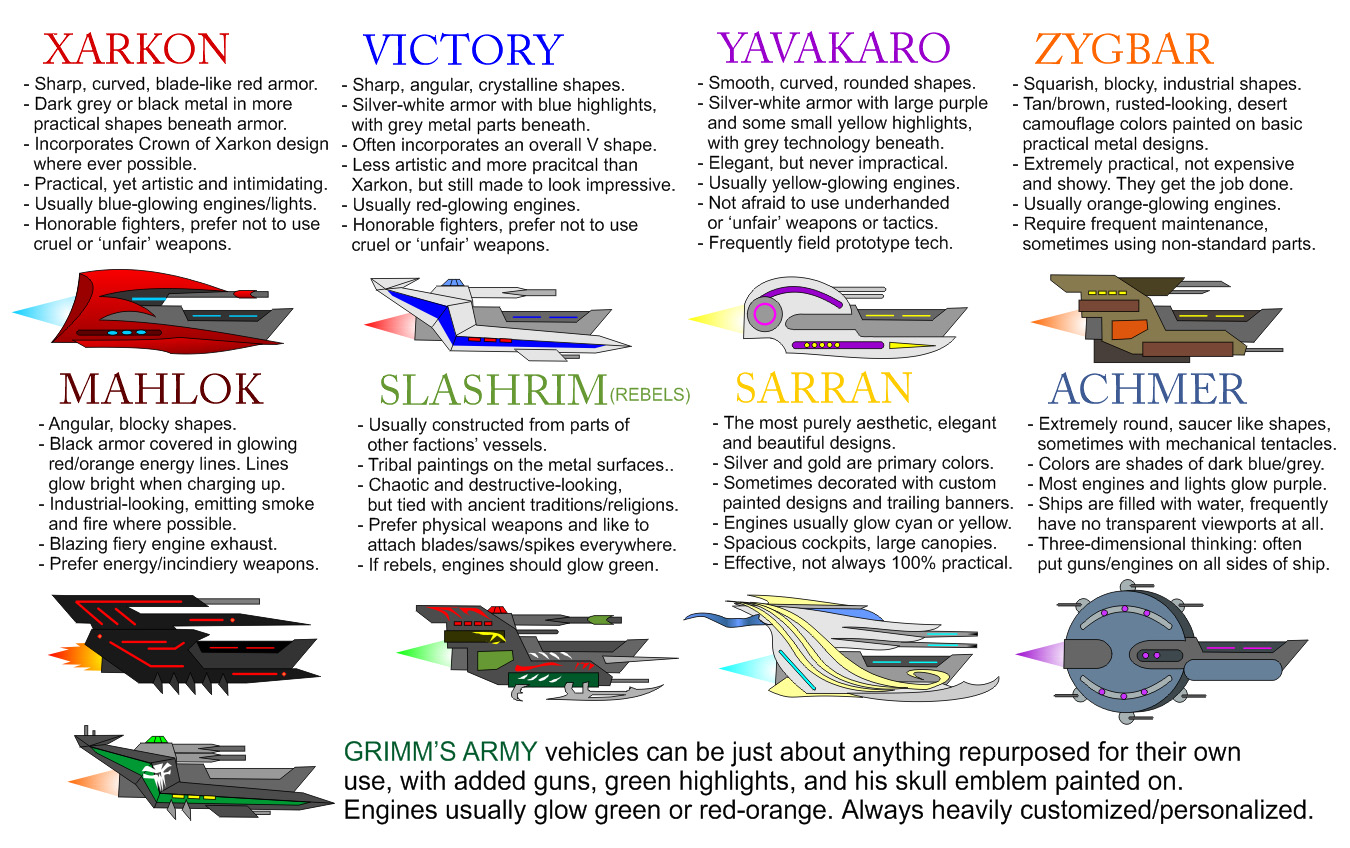 Sarrans
typically consider aesthetics every bit as important as functionality. Their vehicles are by far the most aesthetically pleasing of any military in the galaxy. Though their primary colors are white and gold, they are a highly individualistic people, prone to customizing their vehicles with artistic patterns and symbols of either personal or family significance. Because of their large wings and love for the sky, they are not fond of confined spaces, and their ships usually feature spacious interiors and large canopies for maximum visibility. Sarran land vehicles never have wheels - they are either hovercraft or walkers. Their walkers are typically humanoid in shape, and they have 'aerowalkers' with wings and jetpacks (in general, their walkers are more similar to anime mecha than most in Nova Refuge). However their favored vehicles are fighters, as their pilots are reputedly the best in the galaxy.
(Example:
Sarran Erelim Fighter
)
Achmer
, in contrast, are a coldly practical people who actually favor darkness and tight spaces. Their vehicles often lack a transparent canopy entirely, relying entirely on computers and instruments for navigation. Those that do have canopies are usually dome-shaped. Indeed, their favorite shapes are circles, spheres, and ellipses, giving their starships a familiar 'flying saucer' appearance. They seldom add much decoration to their craft, usually leaving the metal a colorless blue-grey (for LEGO, any grey or blue is acceptable). For the three-fingered Achmer, most things (canopies, guns, walker legs, etc.) come in groups of three. Their walkers feature long, spindly, tentacle-like legs. They also build armored battle suits to adapt to infantry fighting on the land. Achmer technology is the most advanced of any race, and they keep much of it top secret, including their highly effective cloaking devices.
(Examples:
Micro scale fleet
,
saucers
,
fighter-walkers
,
science vessels
)
Here are some concept sketches for inspiration!
The Rules/Guidelines
You can create any kind of vehicle: land, sea, air, space, mech, hoverbike, exo-suit, anything. It does not have to be military. It can also be civilian.
You can use nearly any medium: a drawing with pencil and paper, a computer design, a LEGO creation, or a sculpture made of Popsicle sticks - as long as it gives a clear idea of what your vehicle design looks like.
If building a LEGO, minifigs are not required. You may even enter a microfig-scale entry. But if you choose to include a minifig, the Atlantis sets had some heads that could be used as a base for an Achmer, and the current Chima sets have a decent pair of wings for a Sarran (probably hard to get into a vehicle though).
You may submit one entry for each race (one Sarran, one Achmer), but no more than that. I may be open to lifting this restriction if we don't get many entries.
How to Enter
Just post a link to your creation right here in this thread! You can link to a topic you posted here in the SSLF LEGO boards, or you can link to another site like Flickr, MOCpages, or Brickshelf
If you do not want to post your entry here for whatever reason, you may email it to
sales@saber-scorpion.com
instead.
Judging
The winner will be judged according to creativity and adherence to the particular style of the race/faction. If you are a Nova Member who has purchased Warrior Born, you may volunteer to help me judge.
Prizes
Grand prize winner(s) will get a drawing (by me) of their vehicle!
They and at least two runners up will also receive medals for their forum account, and a discount code for the Saber-Scorpion's Lair Shop.
Maybe I'll add other prizes later if I can think of something...
Deadline
The current deadline for entry submission is
March 31
.
Entries So Far...
Achmer "Kraken" Tripod
by Tr0jin H0rse
Sarran "Lionfang" Fighter
by Spartanmonkey285
Achmer "Black Widow" Figher/Sub
by Spartanmonkey285
Sarran "Cherub" Hoverbike and "Valkyrie" Aerowalker
by kilosilvey
Achmer "Deepstrider"
by ForcedSim
Achmer "Typhoon" Fighter
by silentspy
Sarran "Dragon's Tooth"
by Golden Crusader
Achmer Gastyrian Support Shuttle
by Dagoth Ur
Achmer Scout Walker
by Harry Monster
Achmer "Riptide" Swimmer
by Horatius
Sarran "Archangel" Fighter
by Fire-fox
Achmer "Charybdis" Sea Walker
by Crustacean Freak
Sarran "Gabriel" Dive Bomber
by Pablo