1
New Minifigs & Accessories, Discounts, a Contest, and More!
Wulfgard
LEGO
Custom Minifigs
SSL Update
Shop
Decals
Brickarms
BrickWarriors
Zombies
SSL Comics
Books
Assassins Creed
Nintendo
Hello, folks! It's been a while. Which is why I've got tons of stuff in this update! First of all, I've added a bunch more random minifigs to my
Commissions, Requests, and Other Minifigs page
- Take a look, you'll probably find something interesting. Also in the LEGO galleries section, the
Resident Evil page
has been updated with new RE5 and RE1 HD minifigs. Oh, and I'm running
a new contest!
Check 'em out! 
Meanwhile,
the Shop
now has a set of
permanent automatic discounts: ALL orders of $50 or more will now receive an automatic 5% discount from the order subtotal, and orders of $100 or more will get a 10% discount! Plus, all domestic (US) orders of $75 or more get FREE standard shipping!
Now for the big list of new items we've added!... 
New Minifigs & Decals in the Zombie Attack category:
New Minifigs in the Fantasy Category:

Elf Hero and Knight of Judgment!
New Weapons & Armor in the Accessories section:
Assassin and Spartan accessories now available separately!
Wulfgard: Knightfall and Into the North prices reduced on Amazon:

Both are now also available as Kindle eBooks!
And finally, a CONTEST!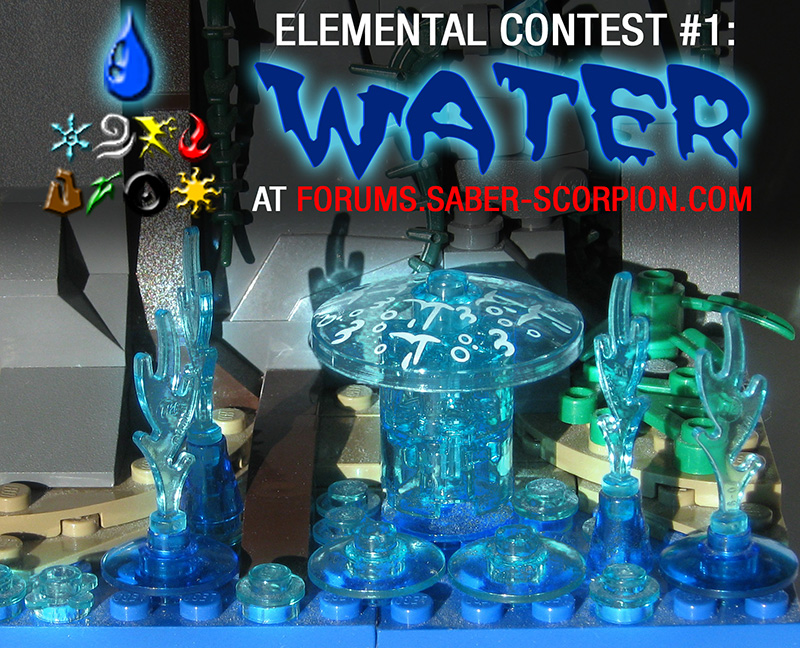 All you have to do for this contest is build a LEGO creation (note: non-LEGO entries are also allowed) based on the element of WATER. You can win up to $24 of stuff from my shop! Visit the thread HERE for details. Please take a look and consider entering something!
That's all for now! Until next time!