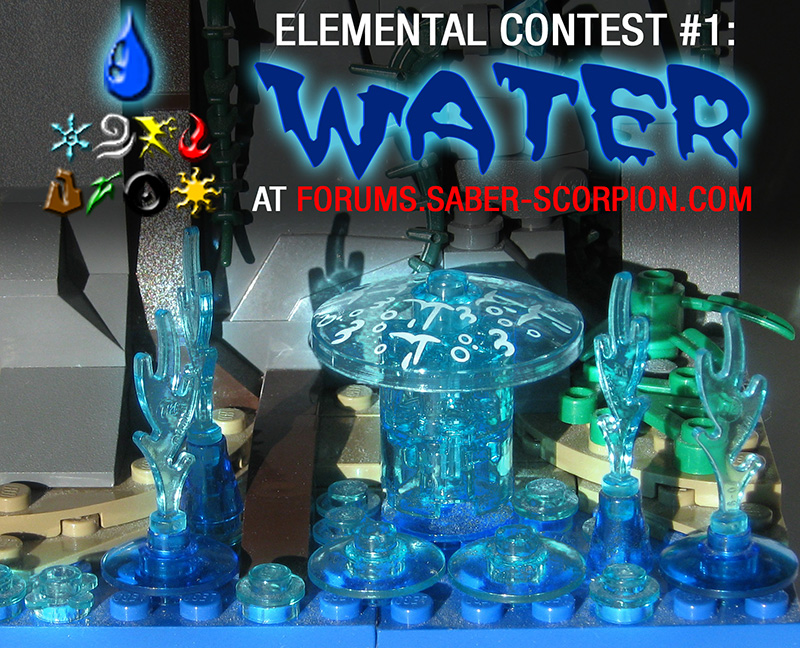 Elemental Contest #1: WATER
 
This is a series of contests themed around a set of fantastical "elements": Water, Ice, Air, Storm, Fire, Earth, Life, Darkness, and Light. I might add more, or remove some, or change the order. There will be a new one every few months. I don't know if we'll ever make it to the end. That depends on how many people enter, for one thing. So tell your friends!
 
The first theme is WATER. Your entry can be set in any time period or based on any universe - be it high fantasy, sci-fi, superheroes, whatever - so long as it prominently features WATER as a central element of the piece. Preferably the water should be doing something, rather than just sitting there. An entry depicting a ship at sea will get a few points, but one where the ship has sprung a leak and water is spraying out and flooding the deck will get more. An entry showing a battle atop a dam might get a few points, but one where the dam is breaking and water is pouring out will get more. Be as creative as you like!
 
LEGO entries are encouraged, but I know some of my forum members don't do LEGO, so we also accept other types of artwork, even written entries. Depending on how many of those we get, we may judge them in a separate section. LEGO entries can take any form, but vignettes or dioramas are preferred.
 
Please note that this is the WATER contest, not the Ice or Storm or Air contest, all of which will come later. So your water must be in the liquid state, not frozen or in the form of a cloud. LEGO entries can use whatever they like to represent the water: any shade of blue bricks, trans-blue bricks, clear bricks, or even actual water if you want to get really crazy.
 
JUDGING & PRIZES
Entries will be judged according to three main criteria: general creativity, overall quality, and use of water as the central theme. There will be a panel of no more than 5 judges, with myself and Maverick-Werewolf being 2 of them. We will call for volunteer judges later, so don't ask just yet. Consider entering instead, first!
 
Each winner will get a code they can use to take a certain amount of money off one order from my shop (it also subtracts from shipping, so your order can be completely free!) and a medal icon added to their account here on the forums.
1st Place Prize = $24 shop code & gold medal
2nd Place Price = $16 shop code & silver medal
3rd Place Prize = $10 shop code & bronze medal
There will be bonus prizes for winning entries set in Wulfgard or Nova Refuge too!
 
HOW TO ENTER & DEADLINE
Just link to your entry in a reply to this topic! Yes, you must have a forum account to enter, and I encourage you to post your entry as a topic in the appropriate board here, like the Construction Zone or Artwork boards. You can even host your images in our own Gallery here, which now has a LEGO section anyone can use! But if you prefer, you can still host your images on another website and simply link to them here.
 
As stated previously, LEGO entries are encouraged, but you can also enter another type of artwork, or even a written entry.
You may submit up to 2 entries. The current deadline is March 31.
 Now go get your toes wet and start working on an entry!
 
F.A.Q.
If you have a question about the contest, please ask in a reply! I will paste important questions/answers here.
SAMPLE ENTRY
ENTRIES SO FAR