The Carrion Kingdom
Territory of Clan Tosca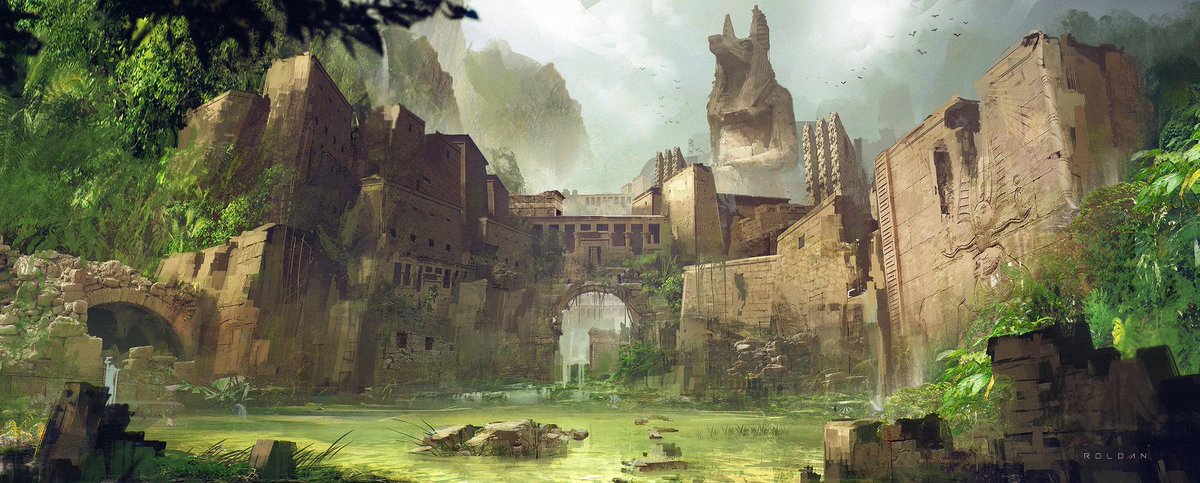 It was beautiful how nature reclaimed these ruins. Water flooded the cobbled road leading to the arched entrance giving a home to various fish and plant life inhabiting the area. A small river from the sea fed the river and gave life to the flora which covered the massive stone walls. Far into the distance a towering statue of Anubis watched over the ruins, a key indicator of those who built this paradise. Any beast wandering into this territory could have been lost in the majesty of the scenery, but hungry eyes filled the darkened hallways.
Laughing erupted from the ruins echoing through the air. It sounded as if the party were surrounded by maniacs. As their eyes looked to the stone walls they caught only a glimpse of quick moving figures. The party's eyes looked to Jyuta who was busy scratching behind his ear like he paid no attention to the sounds around him. And after the laughed subsided, the air was filled with angry growls and roars. Numerous hyetzi shrouded in various armours rushed out into the open with weapons in hand. Imperial breastplates, Northrim gauntlets, some wore the chitinous armour found in insect beastfolk, and others went completely bare save for the cloths protecting their loins. Now that the party had seen these hyetzi, Jyuta seemed more civilized than his brethren. The only common item they all wore were bones. Human, elf, dwarf, even other beastfolk, their bones were turned into armour, necklaces, ear piercings, weapons, and belt clips.
A shirtless hyetzu lazily walked up to Jyuta and yawned rather loudly. The other beasts continued being on guard. Each move the party made was met with glaring eyes, clenched fingers, and more hungry growls. It was a bit comical comparing them to the sleepy hyetzu in front of them.
"Jyuta?" asked the beast. "Ya' look like Jyuta. Can't be too sure, ya' know."
"Aye, Tomok, it's me."
"Well, if it is you, ya' know the drill."
Jyuta and Tomok began to smell one another as they paced around in a circle for a few moments. It must have been odd for the party to witness these animals to do this in front of them. But for hyetzi, smells were excellent indicators of many things. Health, identity, where they traveled, even as a form of greeting.
"Jyuta!" hollered Tomok. "So glad to see ya'! Who're these beasts? Ya' bringin' us exotic meats? Never had snake before."
Jyuta turned to look at the party, as if contemplating the choice, then turned back to Tomok with a grin forming on his face.
"No. They're here to help us. Came all the way from Cro-Cabra, yeah. Treat 'em like honoured guests."
"Cro-Cabra?" questioned the hyetzi. "How could ya' do it? Them centaurs are kinda smelly. Ah, nevermind, it dun' matter. Let's get this over with, have 'em come up so I can smell 'em."
"Nah, they don't smell each other. It's not what beasts do out there."
"Really? Huh. Then how do they greet each other?"
"They shake hands."
Jyuta held out his hand to Tomok who cocked his head quizzically. Tomok looked up to Jyuta as if to ask what was he supposed to do next. He opened his mouth to lick Jyuta's hand, but Jyuta shook his head 'no' and motioned for Tomok to follow his lead. Confused, Tomok extended his own hand and watched as Jyuta locked hands in a firm grip. Then the hands went up and down to Tomok's amusement.
The hyetzu laughed hysterically and nodded his head in enjoyment.
"I like this!" he hollered.
The other hyetzi warriors eased their weapons down and looked to each other curiously. Some even attempted to replicate the hand shake they just witnessed and found equal enjoyment in the greeting.
Tomok went to the party and made it a point to shake each and every single hand with joy.
[Welcome to Clan Tosca. There are a few areas to explore and beasts to talk to. The matriarch is currently speaking with her advisers and will take some time before conversing with you. In the meantime, you have free reign of the ruins.]
Centre Plaza – The Centre Plaza is the centre most area in the ruins. It is filled with numerous ponds where hyetzu swim and others where they fish. The plaza is mainly used for socializing and conversing with one another. Hyetzu here primarily smell one another, talk about their battles, or sleeping on rocks. There is food to eat here but mainly consists of water herbs, river plants, and fresh fish. Though it is rather tasteless, it is the best offered in the ruins as hyetzu have a reputation for eating anything and everything. Tomok and Jyuta are located here. Herbs can be collected here.
Old Library – In these ruins rests a vast library where books lie in dust and dirt. Hyetzu have no need for these tomes and often resort to using the papers to line their beds or fueling their fires when no other materials are present. But even with this, there are numerous books left over from years ago in many languages. The hyetzu are not sure what these books detail. Ula the clan historian is located here. [HARBALISM TALENT] Slight chance to create useful potions.
Burning Hall – Weapons storage and armours from defeated foes are kept safe here. The hyetzu have no idea how to forge objects or even how to maintain their wares. It was nearly impossible for them to stay in one place, imagine them trying to learn agriculture or smithing. The only reason they keep the coals burning in the forge is because they like the warmth it provides. A few hyetzu chose this place to sleep and don't mind the extra noise (they are used to the sound of a roaring fire). It is a miracle in itself that the forge is kept in great shape, even if it is in a state of disuse.
The Stone Door – Deep within the ruins is a large stone door. The hyetzu tried to open it once but after numerous attempts gave up. Two hyetzu, however, are located down here with pickaxes in hand trying to pry open the door. They say a mountain of gold is located in here, others say nothing but a terrible monster lies in wait. Travel here for more details. Yama and Tama are located here.
[Current party: Jyuta Liuwa, Morgaine Cattell, Denjis Loka, No'ydya, Maulfield the Cruel, Ressad, Drumbeat.]