Update time!
Last post I talked about coming up with a design for your units, and now I have some WIP units to show off. But before I show them off, it is time to explain my great dilemma!
The Bara-Gol Orcs consist of five different orc clans. For the sake of saving the lore bits for the final bit, they are divided by color:
- Dark Red
- Dark Blueish Gray
- Sand Green/Green
- Tan/Dark Tan
- Reddish Brown/Flesh
The thing that I have to take into account is that each group looks different. Apart from the weapons they wield, each orc has to look different depending on the clan. So, for starters, I have the Dark Red Orcs to show.
They were based off of the Blackrock Orcs from WoW: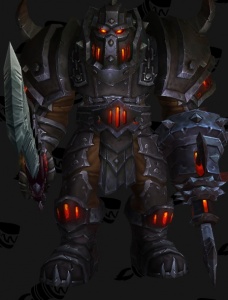 These guys are supposed to be more armored than the other clans and are more militarized than the others. Due to their location near a volcano, they have access to forging good armor, compared to the scavenged armor that most of the other orcs use. 
Now, I still need a bunch of orc faces for these guys. That includes female faces as well; the ratio should be 4 male to 2 female. So yeah, a decal order is probably going to go up next month, simply because I've already flooded Scorp's box with 3 commissions.
The torso's and legs being used are from Nexo Knights. Yes, I know, I hate Nexo Knights as a Castle theme, but they still have some decent minifigs. More importantly, because no one else likes them, the parts were dirt cheap! Once the faces are on these orcs, this clan will be done. Next up, I'll probably work on the Gray ones.