Hey, guys! Who wants to help me come up with some ideas? I've been wanting to expand the selection of items available for sale from my site for some time now, but I'm not sure what to work on. So I want to know...
What would YOU consider buying?
Feel free to come up with your own suggestions that seem even marginally related to my website, but below are some specific areas you can respond to:
POSTERS
What would you buy posters of (available in a variety of sizes, printed on demand)? Would you buy any of the following?
- Comic-style drawings of LEGO-looking dudes in various settings, like sci-fi and fantasy (possibly letting customers choose which face to use for the main guy or even "put decals on him")
- "Recruiting posters" for the various Nova Refuge factions. Some very early concepts of the basic designs can be seen here: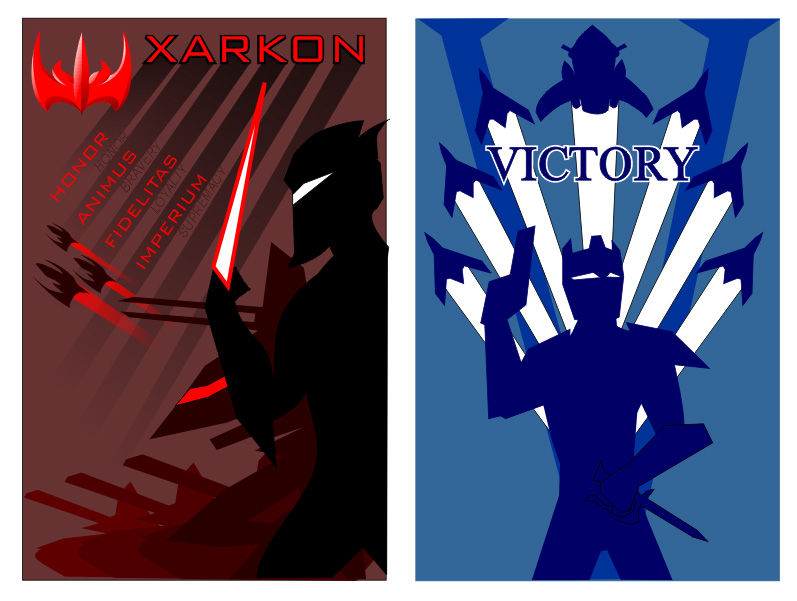 - Some other kind of Nova Refuge or Wulfgard poster (suggestions very much appreciated!), even if it's just the cover of Warrior Born.
- Big maps of the world of Wulfgard and/or Terra Nova from NR.
- Commissioned art (pay me to draw stuff and I draw it and sell you prints)
- anything else that wouldn't infringe on copyrights (I can draw things that indirectly reference Halo, for example, but I feel like a drawing of Master Chief and the Arbiter or something would almost certainly be illegal)
SHIRTS AND STUFF
If you have
any
idea of a website that operates
like
CaféPress
but doesn't charge those
ridiculous
prices that leave no room for profits, I would
LOVE
to know about them. Love so much that I would use even
more italics
when thanking you for the link.
Ideas for shirts are also welcome, as long as they don't infringe on copyrights (again, I could draw or write things that indirectly reference Halo, for example, but something that looks like obvious Halo merchandise would be illegal). Is there anything even vaguely related to my website (LEGO, gaming, sci-fi, fantasy, NR, Wulfgard, etc.) that you think would sell?
COLLECTIBLE CARD GAME
I announced an in-progress Nova Refuge CCG (or TCG, Trading Card Game, if you prefer that moniker) a while back, and, well... it's still in progress. The rules page so far can be found here (warning: way too colorful at present):
http://www.novarefug...s/ccg/rules.htm
and any suggestions in that area are also welcome. Each starter deck would include one Squad Leader card with a name chosen by the player (like Sgt. YOURNAMEHERE). I've done some artwork for a few of the cards now, but progress is slow thanks to school and other projects (as always). Also, I have been trying to think of a way that I could print the cards on cardstock myself and still achieve a professional-looking result. I've investigated different kinds of cardstock you can buy, as well as different kinds of cutters, corner-rounders, and ways to laminate and protect the cards. Again, anything you can say that might help, awesome!
Also most importantly
WOULD YOU BUY IT?
If no one is interested then I'm wasting my time and should concentrate on other things because I've got my hands full enough as it is (as you can see by my long dry spells in updating).
LEGO ACCESSORIES
NO, I DON'T KNOW HOW TO MAKE THESE so please don't give suggestions on what to make. I was just wondering if you had any info about HOW. I would LOVE to make something along the lines of Brickarms or Brickforge, but my knowledge of how they do it is sparse. If anyone has any intel on how I could get into the business (preferably from one of the aforementioned sites) that'd be great, because I have some awesome ideas I'm sure you'd love. Info on how the items are designed or manufactured, even specific programs or companies, would be most helpful.
Price is not a factor. I'm willing to make the investment.
COMIC BOOKS
This is a sure-to-happen thing, so I guess I don't know why it's in here. Since 2005(!) I've been working on a Wulfgard comic that will finally see the light of day
very
soon(ish). This has been a personal project of mine that I'm very passionate about so it will be a
thing
, I swear. My current plan is to put the whole comic story for free online and then sell a print version that would be like a "special edition," with more information, extra pages, and improved coloring and effects on many of the pages themselves. I might also do a Nova Refuge one in this manner at some point, but right now I'm concentrating on Wylfgard because to be terribly honest, as much as I enjoy
writing
sci-fi, fantasy is just way more fun to draw.
MORE DECALS
I'm really looking for something other than decals, but hey, if you want to suggest something here too, go ahead.
ANYTHING ELSE THAT MIGHT SELL
Before spouting random ideas, think about whether or not YOU would even consider buying it. If the answer is no, think harder and try to come with something reasonably within the realm of possibility that would also sell to people like you.
I hope I can get some useful information on at least some of these topics from the membership of SSLF. Thanks in advance for any and all replies!