Biohazard
Member Since 01 Apr 2008
Offline
Last Active Feb 06 2011 02:27 AM
About Me
Not much about me to say, really. I'm like those people that are 'just there', like a background character. Oh, and I hate politics. I play the bass and I'm proudly Canadian, and show respect to everyone except those that don't respect others. I'm what we call a gentle giant, but I haven't really grown in size for a long time. My shoe size is Bigfoot and am thinking about getting a tattoo, but no really sure about it yet. I'm only 16 years young, and have an affinity for writing. My strength is biology, but I have to wait until my next year of school, that being my senior year, before I can take the biology class regarding physiology, both human and animal. Let's just say my path is either biology teacher at my high school or family doctor or paramedic. I'm taking driver's lessons already, but my friends were recently in a car accident, where a speeding van hit the car. They're alright now, but that doesn't really help my road esteem. Also, I'm dead afraid of bees. I've been writing a Halo fan fiction, but am unsure whether to post it here or not. It meets length requirements and all, but I don't feel all that, well, worthy to post it here. I might in the future, but anything can happen.
Feel free to leave any questions, comments, compliments, concerns or insults. Maybe not that last one.
One of my favorite Twisted Metal Black characters: Darkside, who allows for some "smashing" results.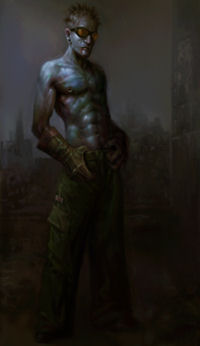 My clan is a dysfunctional one. That is because I am a Malkavian. Something is poisonous about my clan's blood that drives all those embraced to madness. However, in this madness, I tend to have great insight. Unfortunately, people just take it as senseless ramblings. In every family there is an insane one. I'm it.
I am a Defender of Victory -
What are You?
---
Community Stats
Group

Member

Active Posts

294

Profile Views

11,975

Member Title

I've been inactive too long.

Age

28 years old

Birthday

October 26, 1992

Gender

Male

Location

Somewhere.

Interests

Playing the bass, TV, movies, video games, forums, other internet-related stuff, none of the bad stuff, though. I also like football, hockey (even though I can't skate) free swiming, music, my friends and family, myself, my cats and dog, my home, my country, my school, biology courses, Vampires (not those sissy Twilight ones) and I love to hate politics. Oh, and if you haven't guessed, anything to do with biohazard.
Contact Information
0
Health: Critical
Viewing Profile: Biohazard