1
Wrestling Wednesday #1: Naito
Posted by
Hawk
, 25 January 2017 · 2,098 views
Look what I found on Brickshelf! Guess I must have made myself a logo a while back for a blog that never materialized. But regardless, here it is now for a blog that will actually happen (at least this once). Its Wednesday, so you all know what that means! Its time for Hawk's Wrestling Wednesday, the greatest wrestling blog on the entirety of the internet, and if you disagree you're a stupid idiot! Obviously, I'm a pretty big wrestling fan ("GASP, really?") and I am a huge fan of the video "Wrestling Isn't Wrestling" which was pretty popular when it was first released. The video, which you can view
here
(fair warning, its nsfw at points) chronicles the career of one of WWE's greatest superstars, Triple H, and analyzes the story that was told. I always felt that it was a shame that more videos weren't produced looking at the overall careers of other wrestlers because, in my opinion, there are many others beyond Triple H worth looking into! So, without further ado, welcome to the first entry in the series that will be simply entitled... 
Wrestling Wednesdays #1: Naito
Who the heck is Naito, you might be asking? Fair question, because Naito is a name that many big fans of the WWE might not even be aware of. In fact, Naito never wrestled for the WWE throughout his entire career (though that may change someday). Naito actually works for New Japan Pro Wrestling (NJPW), the second most popular wrestling promotion in the world (with WWE obviously being the top dawg) and is currently one of their top bad guys. Back when I first got into wrestling, I only watched WWE because, quite frankly, it was the only thing I could watch. Now that I'm older and possible more mature, I've begun to expand my knowledge on wrestling promotions outside of the WWE because, believe it or not, they do exist and actually provide some interesting alternatives to the wrestling most of us are familiar with. So, first things first, what is NJPW like? 
My introduction to NJPW is unconventional. In addition to being a big fan of wrestling, I also like anime. Fortunately for me, I can finally get the best of both worlds because there is now a wrestling anime worth watching! Tiger Mask W follows the exploits of a wrestler, Tiger Mask, who is facing off against rival wrestlers from around the world in order to get revenge on his arch-enemy, Yellow Devil. The series is set in modern day Japan and is heavily sponsored by NJPW, meaning that their wrestlers also make an appearance. The anime itself is a lot of fun to watch and all of its wrestlers are very over the top. 
While I was getting into the anime, NJPW happened to be holding Wrestle Kingdom 11, which is basically their equivalent to Wrestlemania in front of around 40,000 people. For this momentous occasion, they even brought in English commentators solely to help introduce hardcore wrestling fans like myself to the product. The event itself was great, with storylines that interested me even though this was the first NJPW show I ever watched. What I particularly liked was how the Japanese wrestlers make their punches and kicks look 
amazing
by actually hitting each other. You will never be able to see someone do that on WWE, but if you like seeing guys get kneed in the face, NJPW is just what you need.  
Naito as depicted in Tiger Mask, complete with stupid hat!
Anyway, there was one guy throughout the event who really stood out to me (and I mean that in a mostly heterosexual way): Tetsuya Naito, leader of Los Ignoberales De Japon? Who are Los Ignoberales? Think the mafia, except they are all from Mexico and wear luchador masks. I don't know about you, but I think that is basically the most awesome thing ever made even better with how over the top it is. One of their guys carries a literal scythe to the ring! I would love to see the referee try to disqualify a man for using a scythe in a wrestling match.  
In addition to his awesome faction, Naito stood out to me because of his attitude. Unlike all of the other wrestlers who took the event very seriously, Naito was relaxed and openly mocked his opponents. Naito's current character is that he is the badass leader of the Lucha Mafia, he basically couldn't care less about the rules and will openly attack the referee and even the announcers if they bother him too much. That in and of itself isn't all that unique, but what particularly stood out to me was how little respect Naito had for the championships. In his match, which happened to be one of the main events of the show, Naito was defending the IWGP Intercontinental Championship, one of the most prestigious titles in the company. A lot of wrestlers would literally sacrifice their firstborn for the shot at carrying this title, but Naito? He couldn't care less, and tosses the title around like a toy.  
It should be noted that, in the world of wrestling, the championship is really just a prop. Getting to hold the title doesn't mean that you are necessarily the best wrestler. Instead, it means that somebody writing for the show likes you enough to put you winning the title into the script. However, it would be inaccurate to say that the belts mean 
nothing
. Being able to hold a championship, even for a short time, serves as a way for great wrestlers to leave their mark on history, and NJPW's belts are notoriously difficult to earn. Just ask
Hulk Hogan
. Treating the championship belt in such a way was something that most wrestlers simply don't do, no matter how dastardly their character is supposed to be. Immediately, Naito stood out to me as someone to watch closely.  
Amount of craps given: 0
So, how did Naito come to be this way? As I did a little bit of research into his history, I was very surprised to learn that Naito did not start out as the leader of the Lucha mafia. In fact, he did not even start out as a bad guy. Naito was initially supposed to be the company's next big star, and his change in attitude inside and outside the ring came about when both the company he worked for and the fans themselves rejected him initially. As with all great wrestling stories, Naito's is one where reality and fiction collide in unexpected ways, as you'll soon find out.  
You can't talk about NJPW history without bringing up Hiroshi Tanahashi. Hiroshi Tanahashi is the John Cena of Japan who almost single-handedly brought the company from near extinction back to its spot at the top of the wrestling mountain. The original founder of NJPW was Antonio Inoki, who you may remember from classic photos of him fighting guys like
Muhammad Ali
. Unlike with WWE wrestling, Japanese wrestlers are typically masters of various forms of martial arts and know both how to pretend to fight people in addition to actually beating them up. Inoki brought a lot of attention to his company by beating up some of the world's biggest sports celebrities. For instance, Inoki managed to beat Ali by staying on the ground and kicking at his legs, which naturally threw the legendary boxer off his game.  
Inoki was actually more infatuated with real martial arts than wrestling, and as a result NJPW resembled UFC more than WWE. Wrestlers wore plain black trunks and fought each other using punches and kicks. This was especially odd for some of their masked wrestlers, including the legendary Jushin Thunder Liger, who still wore his mask during real mixed martial arts
fights
. As much as Inoki loved watching scripted MMA fights, it was terrible to watch, and NJPW quickly lost its fanbase. Then, along came Tanahashi who, unlike the MMA wannabes, had ridiculous hair, played air guitar in the ring, and flew around the ring like a monkey. Tanahashi saved NJPW by showing that wrestling should be based around over the top characters pretending to fight in tights. If people wanted to see a real fight, they could do so elsewhere.  
So, where does Naito come into play? Well, as great as NJPW was doing with Tanahashi in the main event every night, every wrestler can only perform for so long. As Tanahashi neared forty years old, NJPW tried desperately to try and find their next big star. One of those wrestlers they looked at closely was Naito.  
Young Naito doing Young Naito Things
Naito originally joined NJPW after winning a contest, and he did well throughout his training. On paper, Naito looks like the total package. He was young, tall, and smooth in the ring. Yet, even though NJPW put a lot stock in Naito, most fans couldn't care less. See, rather than letting him be himself, NJPW wanted Naito to be the next Tanahashi. The problem was that the fans wanted something new as opposed to more of the same, especially when Tanahashi himself, the man Naito was trying so hard to emulate, was still performing at all of their major shows. However, NJPW still held out hope that Naito could make them big money. How wrong they were.  
Naito went on to win the G1 Climax tournament, a huge tournament with wrestlers from across the world competing for a shot at the IWGP Heavyweight Championshop at the biggest show of the year, Wrestle Kingdom. Most wrestlers describe the G1 Climax as one of the most grueling competitions throughout all of wrestling, and winning it is quite the honor. However, when Naito won it, fans were not that impressed. In fact, even though he was playing the good guy, the crowd audibly booed him. I cannot imagine how disheartening it was for Naito to have worked so hard to get this far only for the crowd to still not approve of him. Typically, the IWGP Heavyweight Championship is always the final match of Wrestle Kingdom, but the response for Naito was so lukewarm that NJPW instead went with another match that happened to include Tanahashi. No matter how hard he tried, Naito could not live up to Tanahashi or his legacy.  
The problem for Naito was that he was trying to be something he wasn't. Whereas Tanahashi was an incredibly charismatic and energetic wrestler who was great at pandering to the crowd, Naito was none of those things. In fact, Naito was a fairly relaxed guy who was bitter that the fans rejected him. In order to find himself and alter his character, Naito went to Mexico. And as the announcers said repeatedly throughout the Wrestle Kingdom show, Mexico changes a man.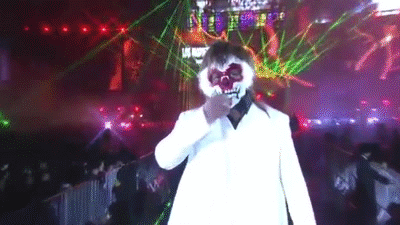 The Man in the Mask
It did not go well at first. Despite his great in-ring talent, Naito was rejected by the fans in Mexico as well. In particular, the Mexico fans made fun of him because hey thought he looked like he was squinting. To mock those fans, Naito would taunt them by pretending to hold his eyes open (which became one of his signature
taunts
). Naito soon found himself joining up with Los Ingnoberales, which translates to the "ungovernables," who were the local group of evil luchadors. Naito finally found his calling, and when he returned to Japan he brought the masks and the evil luchadors with him.  
Ironically, the same Japanese fans who rejected him in the first place were now smitten with Naito, a fact that he was quick to point out. It was only when Naito stopped trying to appeal to his fans that they began to like him, hence why Naito has lost all respect for the titles and what they represent. What is the point of trying to be a good guy when the fans reject you for it? Naito was quite possibly the greatest wrestler of 2016, giving multiple 5 star performances, and performing in Wrestle Kingdom against his mentor Tanahashi. To bring things full circle, he beat the man he had tried to hard to imitate and retained the title he still has no respect for.  
And that's wrestling.