Muffinmanifestation
Member Since 19 Apr 2008
Offline
Last Active Aug 06 2010 08:49 AM
About Me
My Brawl friend code is 0216-0891-5491
Put my name as Muffn
Muffinmanifestation's Favorite 4 Brawl Characters!

1: Ike

He's mean, he's cold. He's Ike, with Ragnell, a two-handed broadsword he wields with one hand, how sweet is that. While Joker says he is a really easy to use character, it takes more to learn his moves. His array of attacks all hit hard but are extemely easy to dodge, but in 3 to 4-man Brawls, it's pretty easy to rack up kills by waiting for an enemy to run into you. OH yeah!
Aether (which is pronounced Ether) is great for getting away from enemies bearing down on you but it sucks as a recovery. Quick Draw (
Side
+ B ) is much better.
Favorite Move: Eruption ( B )and Aether ( Up + B )
2: Link

Originally my best Melee character, I luv Link. He's lookz liek a friggn' elf for petez sake! But he's a Hylian. . . and blonde.

The downsides to him are that his Down + A used to be the best in the game, but now it's so slow to come down, you can always get knocked back up. Normally dying in the process.


Favorite Move: Spin Attack ( Up + B )



3: Ice Climbers

Laugh all you want, but the Ice Climbers are fun to use. Their Squall Hammer ( Side + B ) is easy to spam as well as Blizzard ( Down + B ).

And the boing-ing noise they make has to be one of the most annoying in the game! Just go crazy folks! Go Crazy!

Favorite Move: Squall Hammer ( Side + B )



4: Marth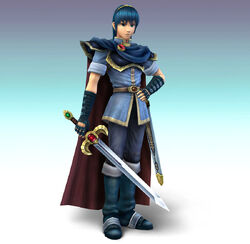 The tiara, skirt, and pose are all tip-offs about this sad, sad little queer, but he's actually pretty good. The dancing blade is really useful in conquering the quick enemy, with multiple wersons of it to suit your needs. The main issue is that for his Final Smash, he goes off the edge if he's in the air and misses. Sad deaths there mah friend.

Favorite Move: Dancing Blade ( Side + B )
---
Community Stats
Group

Member

Active Posts

444

Profile Views

8,346

Member Title

Muffin Pl0x?

Age

25 years old

Birthday

May 23, 1994

Gender

Not Telling

Location

Unknown as of last Friday
0
Health: Critical
Viewing Profile: Muffinmanifestation