Hello once again folks!
Today, we continue with building an army!
First, let's run a recap on what we have before moving forward!
----
The Army of Bara-Gol
----
* = Special Units
Theme: The Bara-Gol Orcs are an army of fierce warriors. They are brutish fighters, wielding crude, but effective weaponry. Often found in melee fights, these orcs exhibit traits of powerful barbarians.
Soft-Cap: 200
- 25 Units of Axemen
- 25 Units of Two-Handed Axemen (Orc Armsmen)
- 25 Units of Archers 
- 25 Units of Swordsmen
- 25 Units of Dual-Wielders (Orc Maulers)
- 25 Units of Spearmen
- 10 Units of Elite Cavalry (Blood Lords)
- 10 Units of Hunters
- 10 Units of Cavalry (Warg Cavalry)
- 10 Units of Shaman
- 10 Units of Rogues (Stalkers)
Now that we've recapped, let's move on with the next part. Putting together minifigs! This is finally the part where you'll start gathering parts for your army. This is, without a doubt, the funnest thing you will do while making an army. In fact, it's so fun, that it is way too easy to lose yourself, or even know where to start! So, let's walk through this.
Gathering Minifigs
Finally, after all of this planning, it is time to collect some minifigs! But how do you go about this? There are multiple ways to start, and you will probably use several of these ways, so let me go over some! But before you go buying figures and pieces willy-nilly you should definitely consider finding some inspiration!
Finding Inspiration
Unless you've got a fantastic idea right off the bat, you'll probably be at a loss for how you want to design your army. Before you buy random parts, I strongly recommend looking up some awesome art or pictures of minifig armies! The idea is to get brainstorming by seeing things that are inspiring. So, for example, when coming up with ideas for my orc army, I started looking at different art for orcs: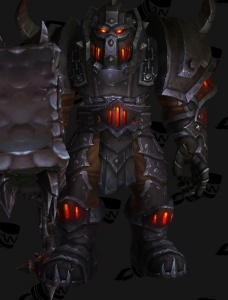 Based off of these designs, I developed a unique direction for my army. For obvious reasons, you probably won't be able to 100% base your army on artwork, but that's not the point. The whole point of this step is to simply get an idea for how you want to piece your army together. Once you've gotten enough inspiration, it is time to begin!
Assembling the Army
Alright, let's start! For the purpose of this part, we'll only be looking at the regulars.
1) Answer the following question: "Is my army custom or is it based off of a design already made by TLG?"
- This question must be asked first, as this will point you in a direction. If your army is based off of something created by TLG then cool! If your army is custom, you'll have to put in some additional work. Don't worry about the additional work, we'll cover that later. So, for me to answer this question, yes, the army I'm currently making is custom made.
2) Acquire gear!
- Before you start gathering torsos, legs, and faces, I'd personally start out by gathering things like armor, helmets, and capes. Similar to looking for weapons, you have a whole, online armory at your disposal. Since 3rd party items will typically run anywhere from $1.50-$1.75, I recommend checking out BrickLink first. Why? Because you can find tons of items for under $1 on BrickLink. Likewise, if you are going to go with 3rd party items, follow the two links to the sale categories for BrickWarriors or BrickForge. You might be able to acquire a good amount of items for very little. 
- When equipping your minifigs, there tends to be two systems of thought out there. The first one is the army that is unified (see the clones in post 1). The second one is the army that is diversified in its appearance:
Personally, both are valid options, but I typically tend to merge them both. I'd recommend making individual units follow a specific design, but make the designs different from unit to unit. In other words, all of your swordsmen could look the same, but the axemen would have different gear. This allows you to build one unit a specific way and build a different unit another way, which allows for both unity and diversity. Of course, you could float to one of the two camps, it doesn't really matter.
3) Getting Minifig Parts
- As you acquire gear, it will become time to start gathering minifig parts. BrickLink is going to be your main resource. While shops like EclipseGrafx, BrickWarriors, Clone Army Custons, and other places might sell custom parts, you really want to stick to gathering TLG pieces exclusively. Most minifig pieces are fairly priced, with the exception of anything LotR (seriously, avoid these parts for mass collection). As with armor, definitely try to aim for stores with the quantity you are looking for. 
- When it comes to your basic units, don't worry about going super detailed into their design. A lot of your really cool looking parts should go into your elite units.
- Gathering faces is also another little detail to add into your army. Just remember a couple of things. 1) If a unit's face is hidden, don't worry about varying their face, and 2) if the unit has a visible face, alternating faces will add more detail and variety to your army. For faces, I'd recommend alternating between five different faces. If different genders are used, you might want to increase the number to six.
- If you are gathering pieces to be decaled, DO NOT GO FOR BLANK DESIGNS! These pieces are typically costly. Instead, look for pieces that have the color you desire. Typically, you can find a random colored chest piece for dirt cheap and cover it with decals.
- Last, but certainly not least, remember what your army theme is! You want pieces that will help you design your army around your theme!
For now, these are some things to keep in mind as you gather.
At this current moment, I don't have much to show on my end, but I'll definitely show you stuff as more things come in.
That's all for now; stay tuned everyone!