So I decided it was high time I started one of these all my own! This will mostly consist, naturally, of Wulfgard and Nova Refuge concept sketches. I'll try to throw in a little variety occasionally though. These are in no particular order, and I don't know the dates for most. Just various sketches I thought were fit to show. So! Here we go...
WARNING! HUGE IMAGES!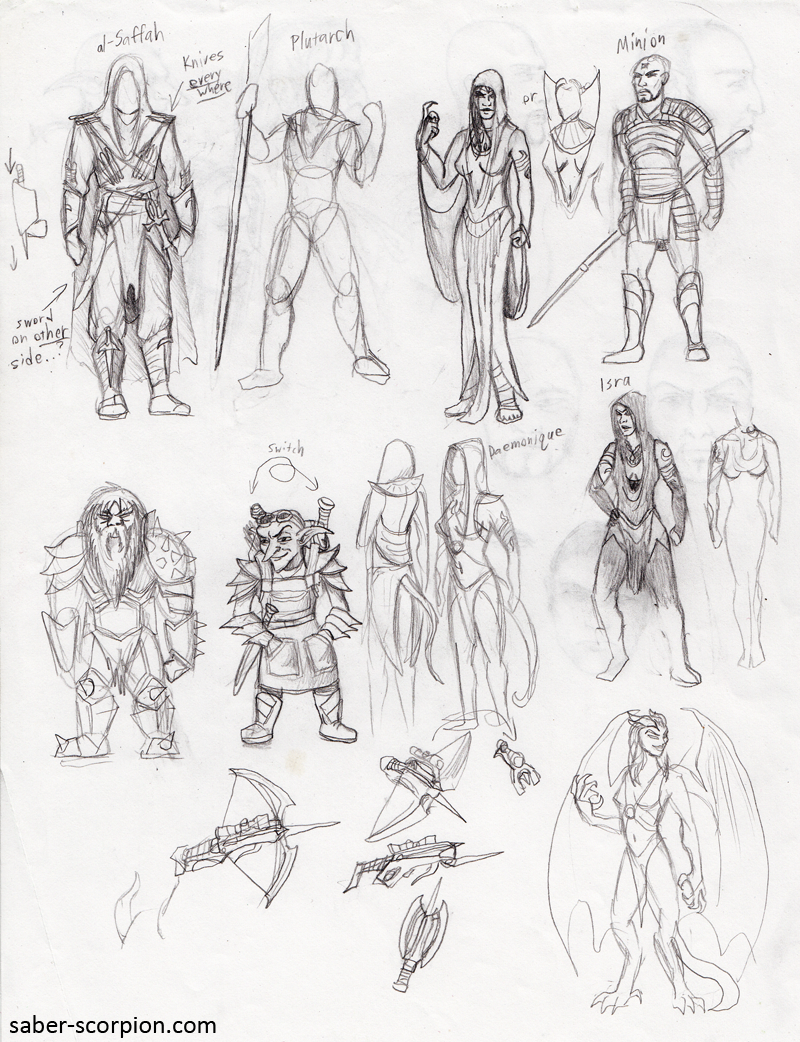 Concept sketches of the various badguy outfits for my Wulfgard comic. Al-Saffah was originally going to have some pop-out blades in his bracers, but I decided he was already too Assassin's Creedy. In my defense though, assassins are all about hoods and knives. Just a fact. Minion is Plutarch's Eastern bodyguard, who has shown up silently in the background of the comic already.
The creepy-looking women in the hoods are vampires (except for Daemonique, of course). The Daemonique in the lower-right corner is her as a Gargoyle.
Three guesses who the dwarf and goblin are.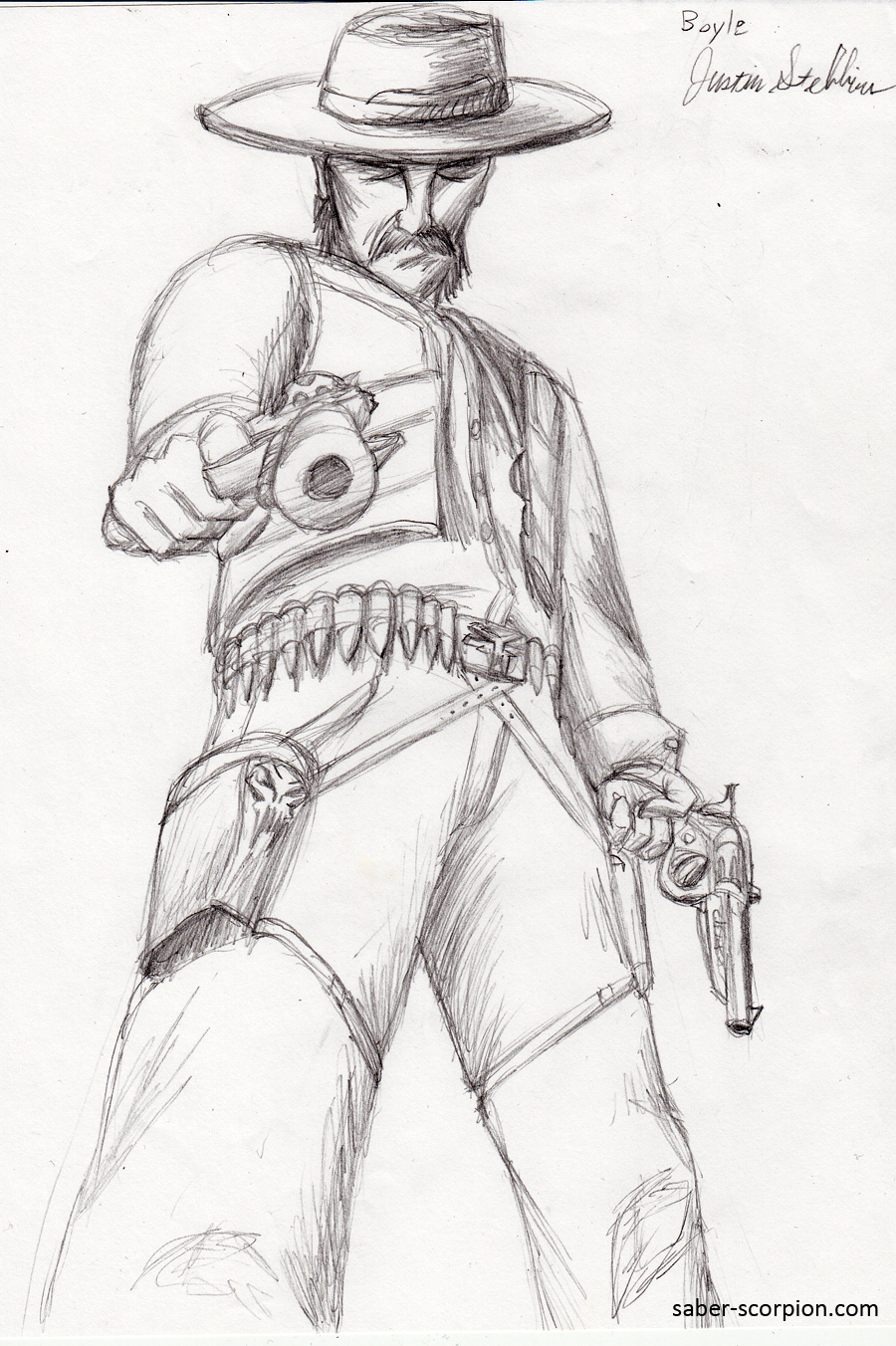 This is a very old sketch of Douglas Boyle, Grimm's right-hand man in Nova Refuge. I'd say from 2003 or so, perhaps. I'm really not sure. I forget to date things a lot. Anyway, the perspective's a little off, but it's still one of my best old Nova Refuge original concept sketches. Most are unfit to show anyone.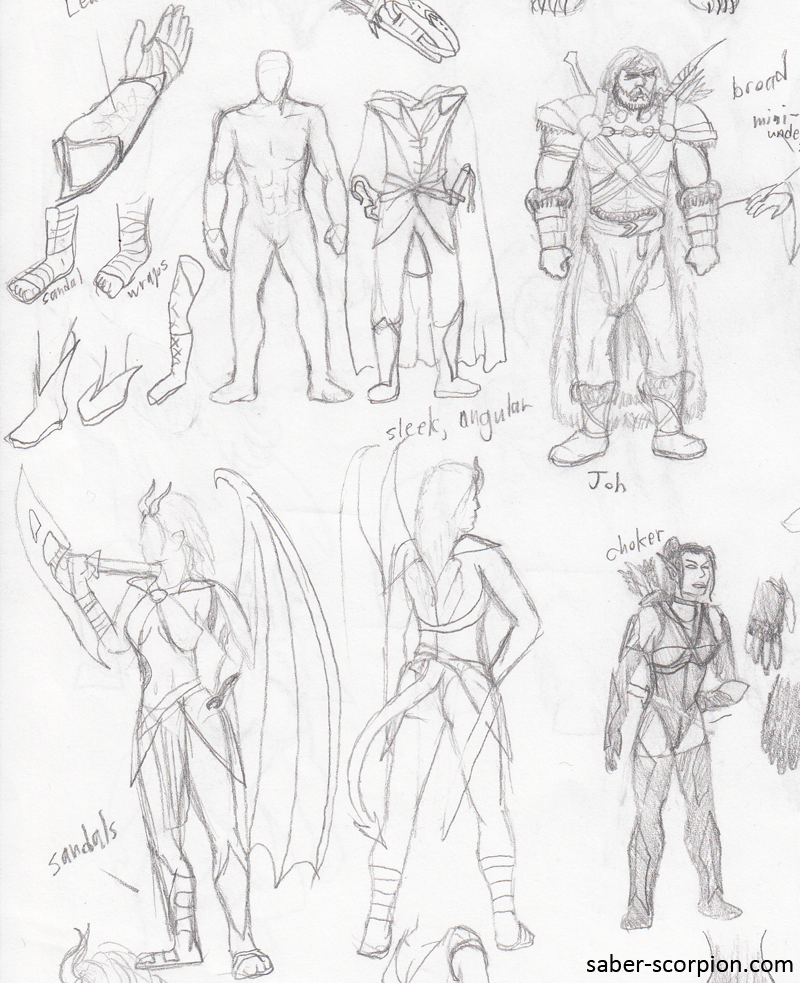 Some costume concepts for the Wulfgard comic. I cut off a lot of this page because it contained major spoilers.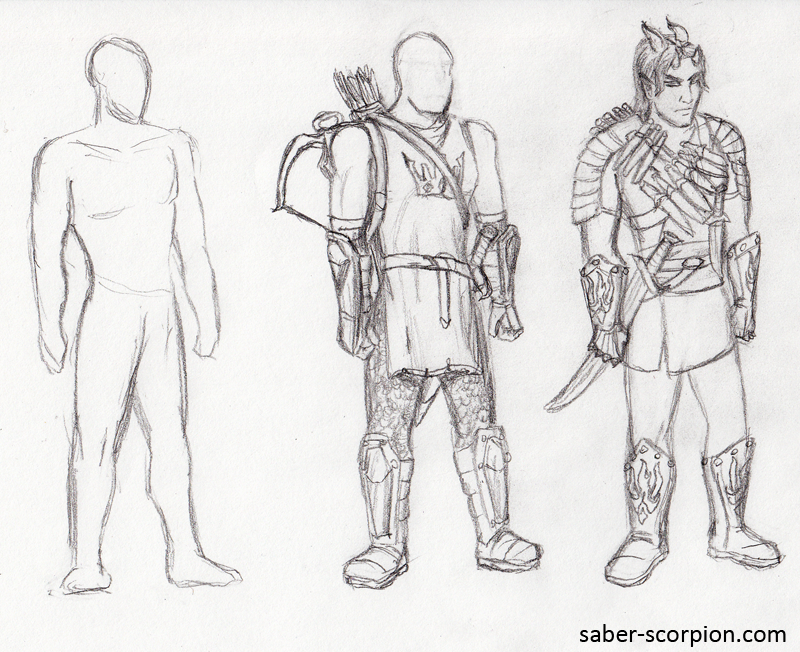 These outfits were designed for Corben and Kye, major characters in Wulfgard created by Wolfy. This was before we switched Kye back to an outfit closer to his original armor Maegan created in Neverwinter Nights.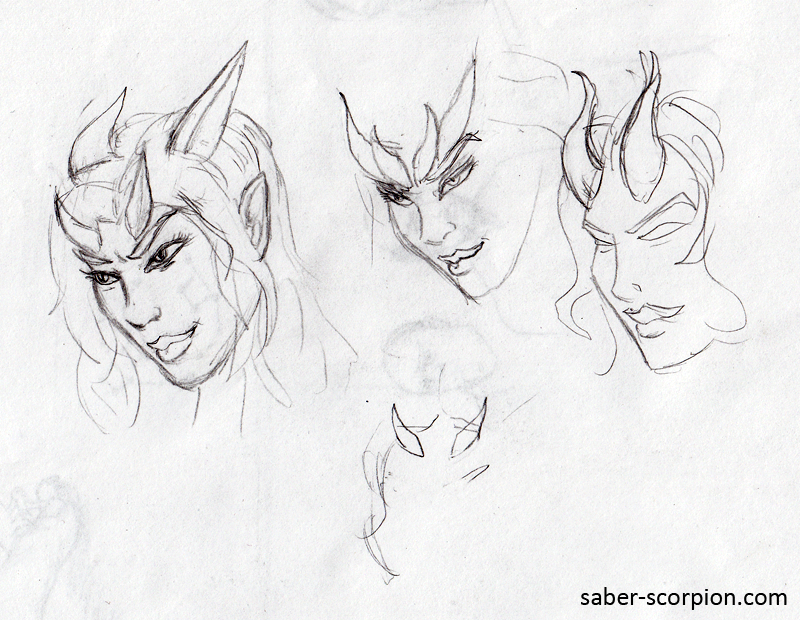 Horn ideas for Daemonique.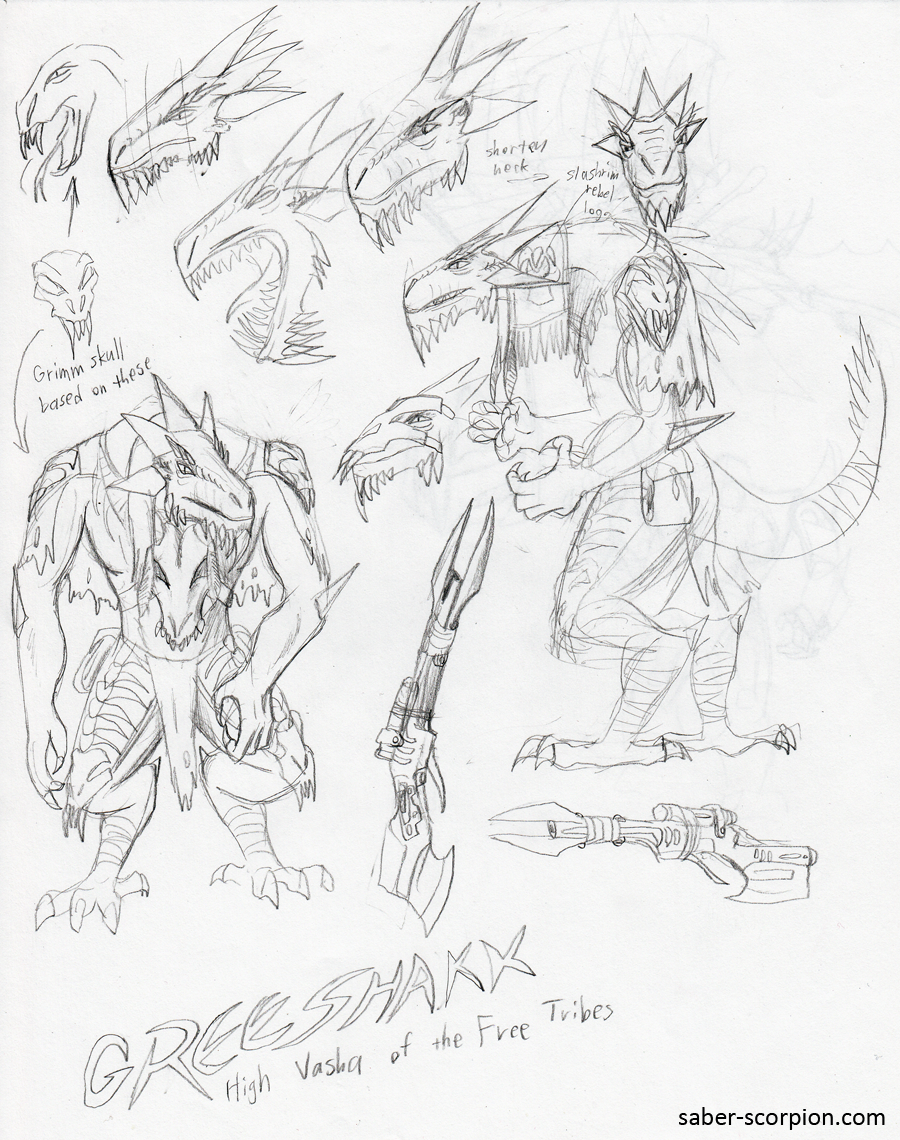 This one might be on the Nova Refuge site already, I think. Concept sketches for Vasha Greeshakk.
Back when I stopped the original run of the Warbringer comic, I kept trying to think of ideas for a different comic, since for some reason I just couldn't "get into" Warbringer. One of the 3 ideas I strongly considered was "Greenrock" (working title), a comic which would follow Jade and several other Grimm's Army mercs as they worked for Greeshakk, helping to defend the Free Tribes from Helexith in Womloch. I eventually decided that this was too important to the development of Jade's character to be delegated to a minor comic, so I made it part of my next NR novel,
Saber's Edge
, instead.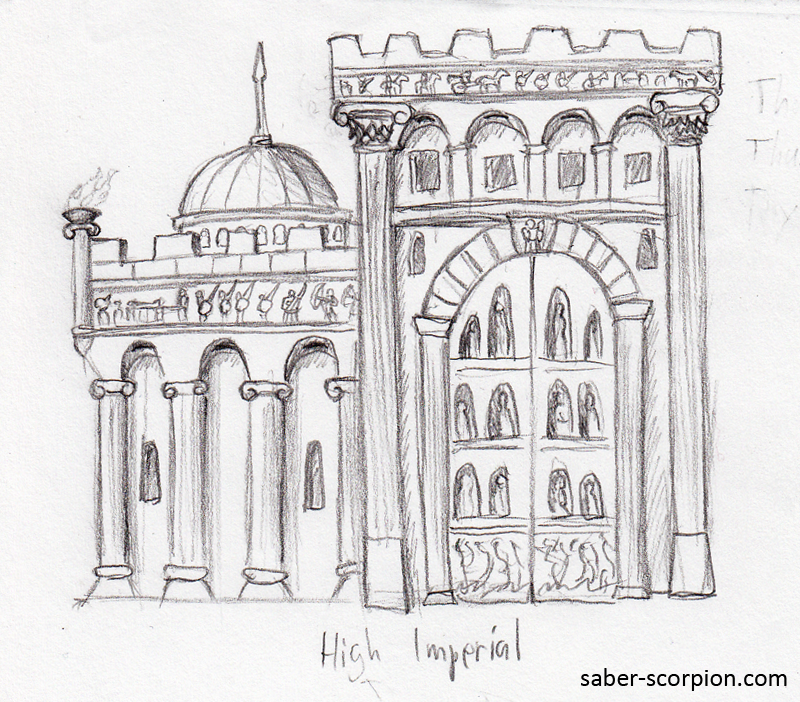 Concept art for High Imperial architecture in Wulfgard. It's meant to look like a cross between Late Roman and Medieval styles, like you might find in Byzantium, but slightly less Eastern-looking. This is the type of architecture one would find in cities of the Imperial Heartland, such as the capital city or Templaria.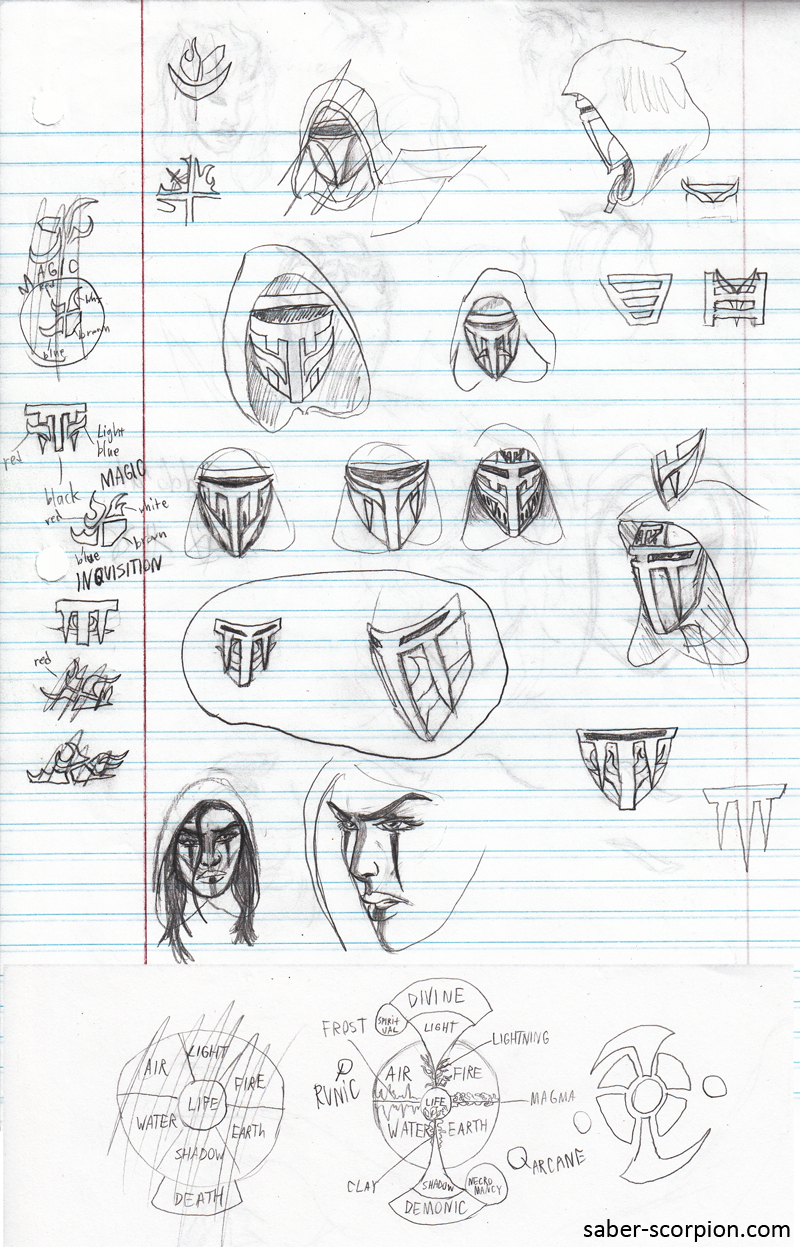 Sorry about the notebook paper. I drew a lot of this art during boring lectures in classrooms. These are concept sketches for
the Inquisition
and
the Wheel of Magic
. The Void Iron Masks of the Inquisition were inspired by Darth Revan from KotOR. The face-paint and outfits of the Channelers were partially inspired by
High Inquisitor Whitemane
, a boss in the Scarlet Monastery dungeon in World of Warcraft. A fan favorite, for obvious reasons. Heh.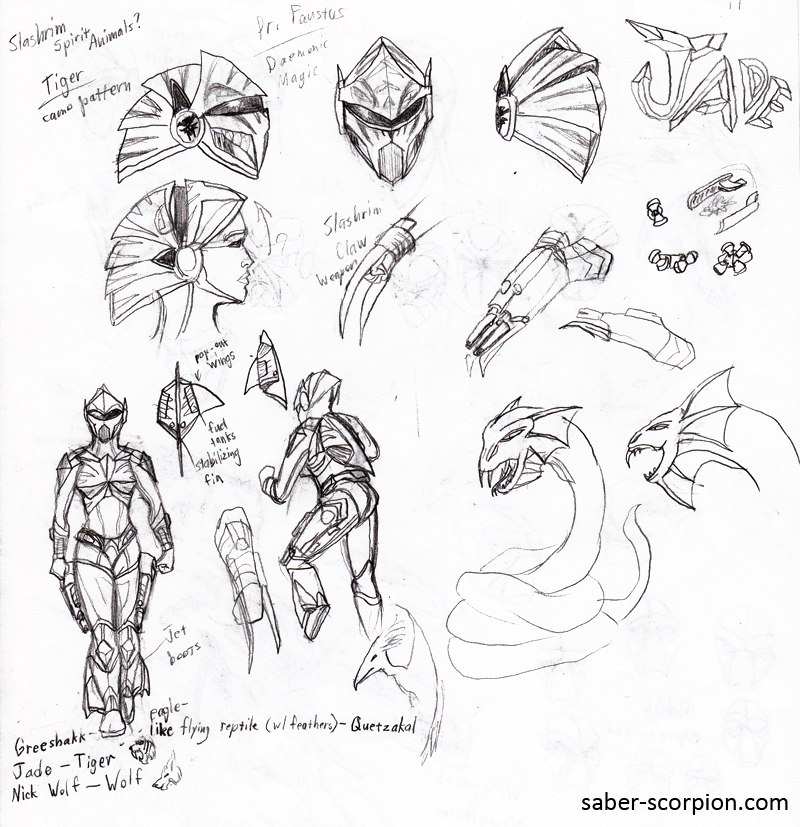 More concept art for the Nova Refuge "Greenrock" comic that never came to be. Ignore the note about Dr. Faustus - I was in an English class at the time and thought I might have heard something worth taking notes about. False alarm, as you can see. Anyway, I had this idea that the Slashrim might have "spirit animals" that they discover through some shamanistic rite of passage. I'm not sure if that is too close to Wulfgard stuff or not, but Jade was going to pass through this rite in the comic and discover her spirit beast was a Tiger. She would then program her armor's nano-camouflage to add tiger stripes. The claws were weapons she came up with while fighting without her armor. The snake-like creature was to be a type of sea-serpent native to Terra Nova on whose skull the Grimm's Army logo was actually originally based.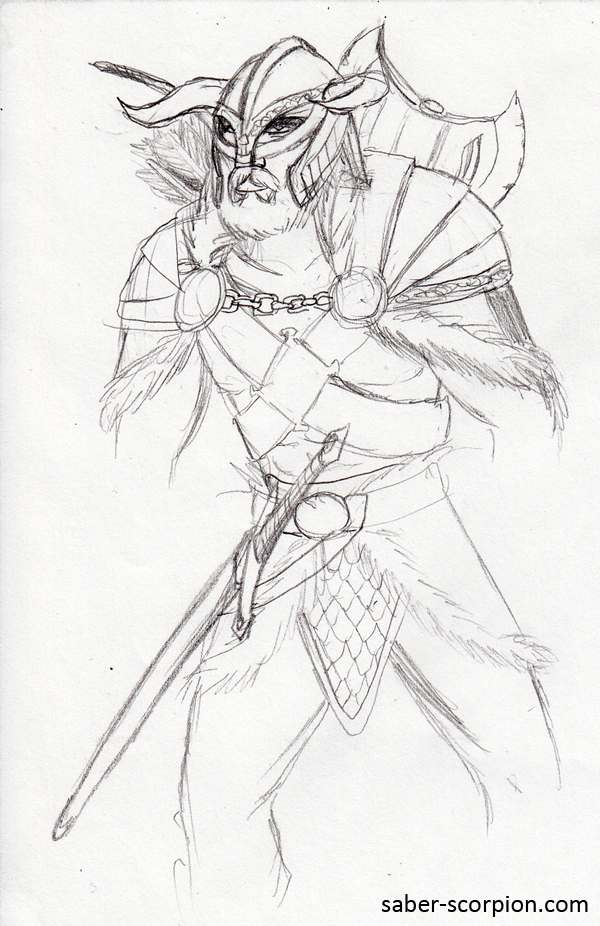 Trying to come up with just the right outfit for a certain character in the Wulfgard comic that we haven't met yet... but who has already been mentioned once by name.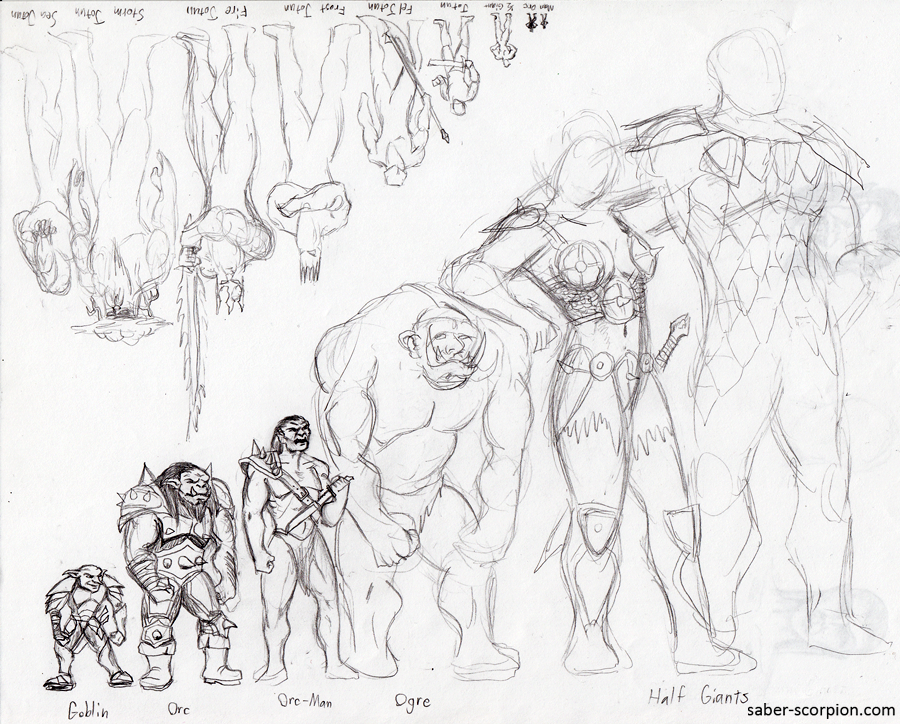 I was originally going to post this on the Wulfgard page about the Chaos Races, but then I came up with the idea about goblins/hobgoblins and decided the half-giants might look too big here, etc. So I scrapped it. But here it is anyawy, if you're interested. The half-giants' armor suits are composed almost entirely of human shields.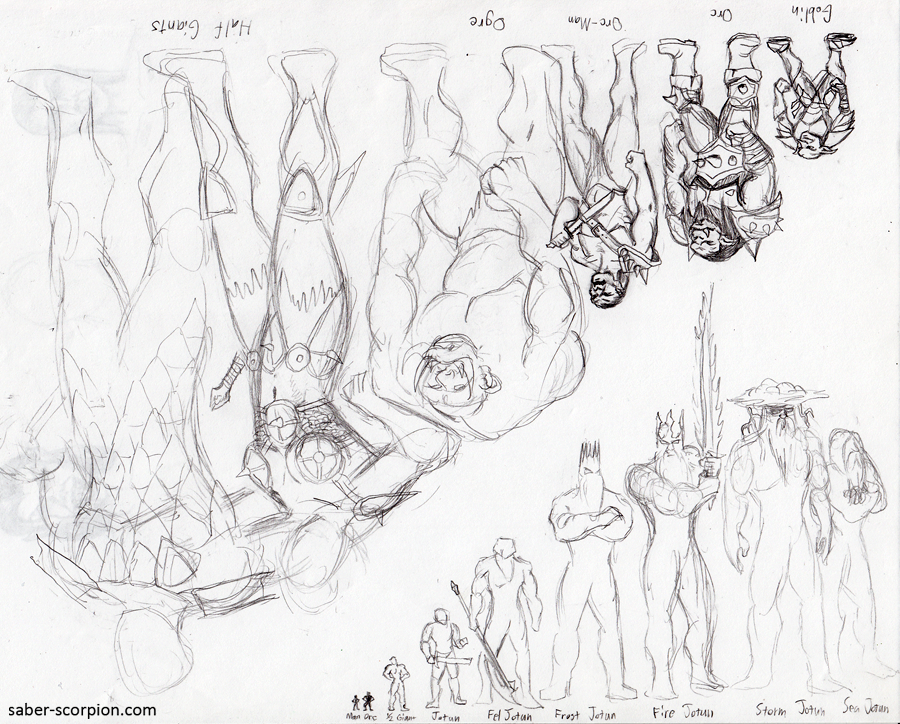 Here it is flipped around so you can see the dudes on the other side. This shows the size of the actual Jotunn races (giants).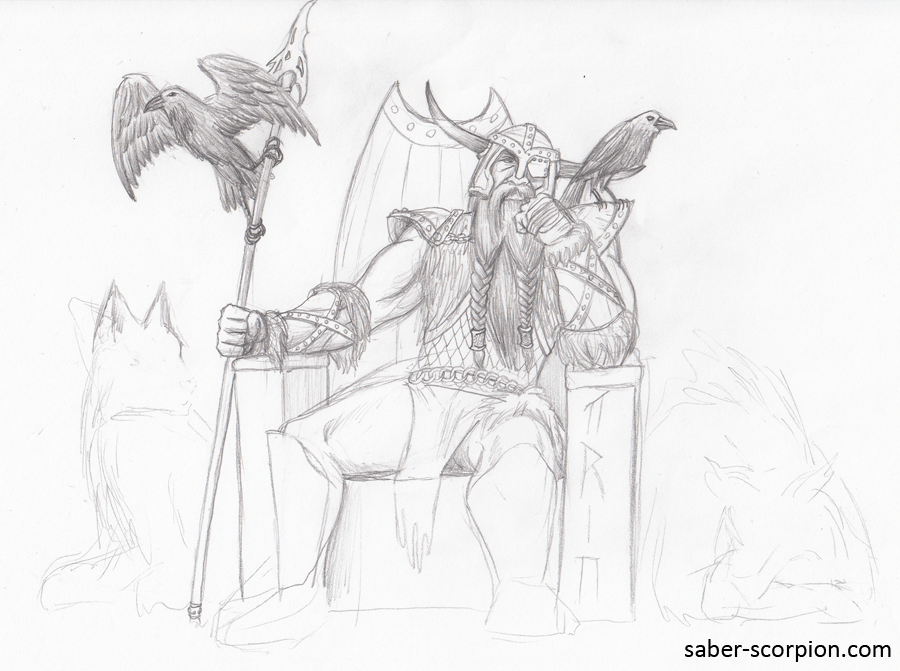 Just an unfinished sketch of the most badass mythological deity of all time. If you don't know who this is, you need to step back and re-evaluate your life, lest he smite your face off with righteous fury.
On the other hand, if you
do
know who this is, and can name not only the guy himself but also his spear, his wolves, his ravens, and tell the story of how he lost his eye, then congratulations, you are
awesome
.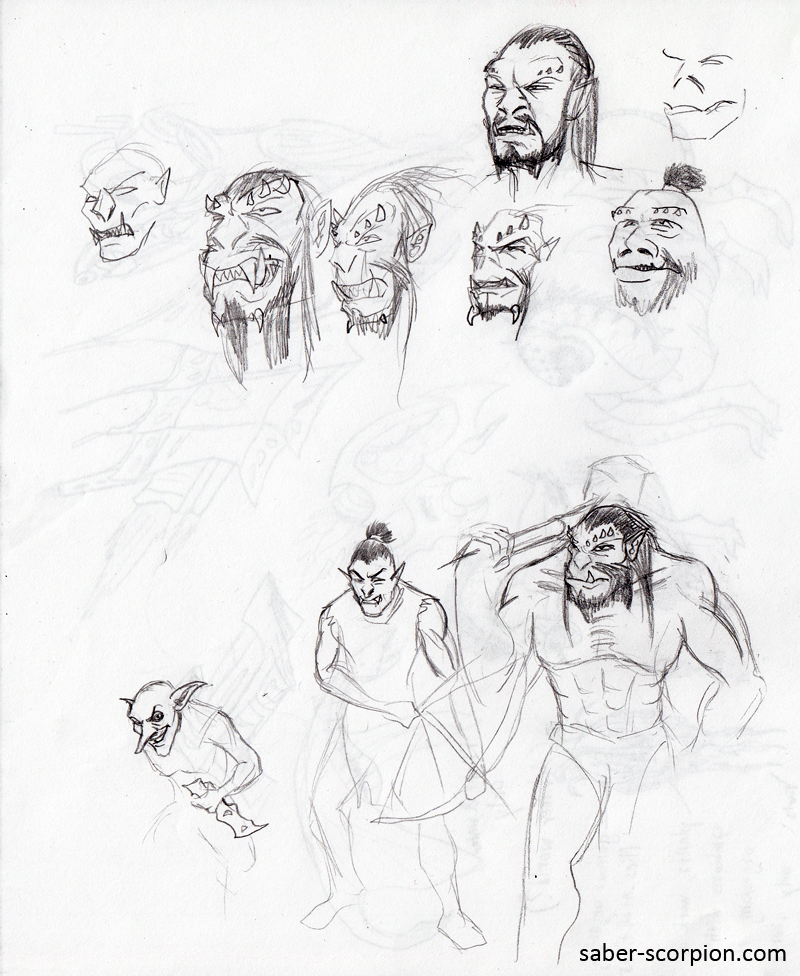 Trying to come up with good faces for orcs, goblins, and hobgoblins. Ones that don't look too much like Tolkien, D&D, Warhammer, or Warcraft. I'm still not sure if I succeeded, but you can judge the final products
here
.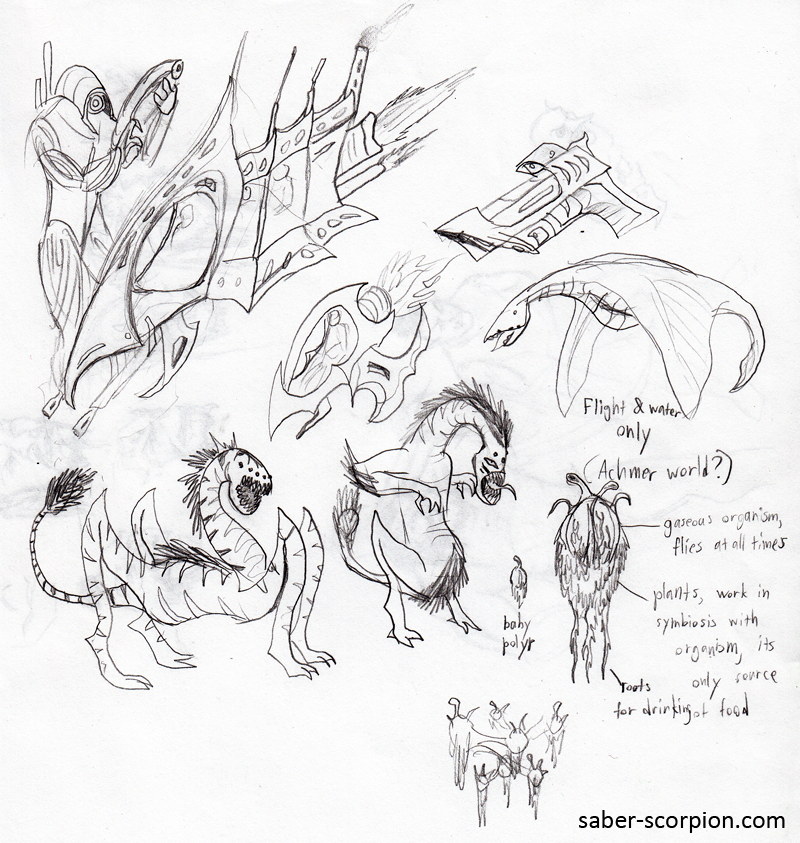 A page of mostly random sketches. There's a Geth up in the corner; pay him no mind. The two bizarre vehicles are nothing in particular; I just started drawing, and they were the result. The weird spiny creature with the messed-up legs was an idea for a predatory beast native to Slasheth, the Slashrim homeworld. The floaty thing with the weeds on it and the big flying guy were ideas for the wildlife of the Achmer homeworld, Planet O. I had this idea that since there is no real land on O, perhaps some creatures might have evolved the ability to fly but skipped the walking stage. The rest of the idea is explained on the page, if you can read my terrible chicken-scratch handwriting.
Lord Plutarch, the main villain of my Wulfgard comics. Yes, he's an evil wizard with a goatee. Yes, that's cliché as hell. Yes, that was intentional. Yes, he's still awesome. Just wait and see.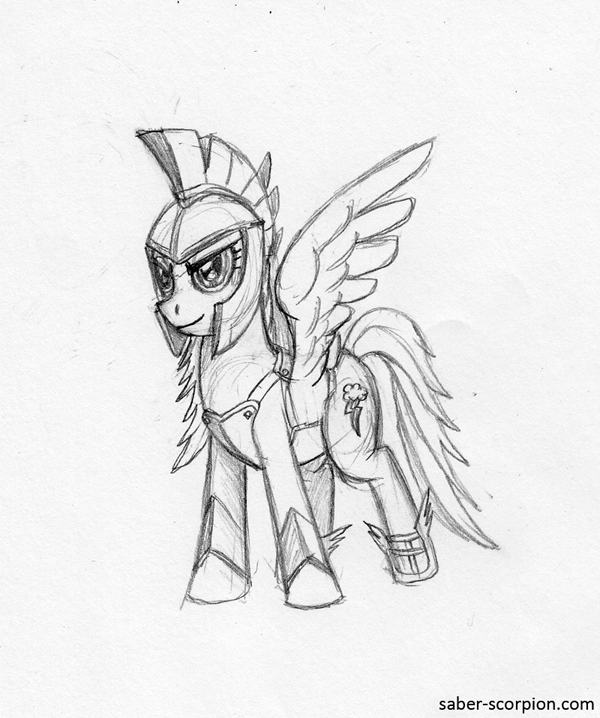 This sketch is roughly
20% cooler
than most of the other sketches here.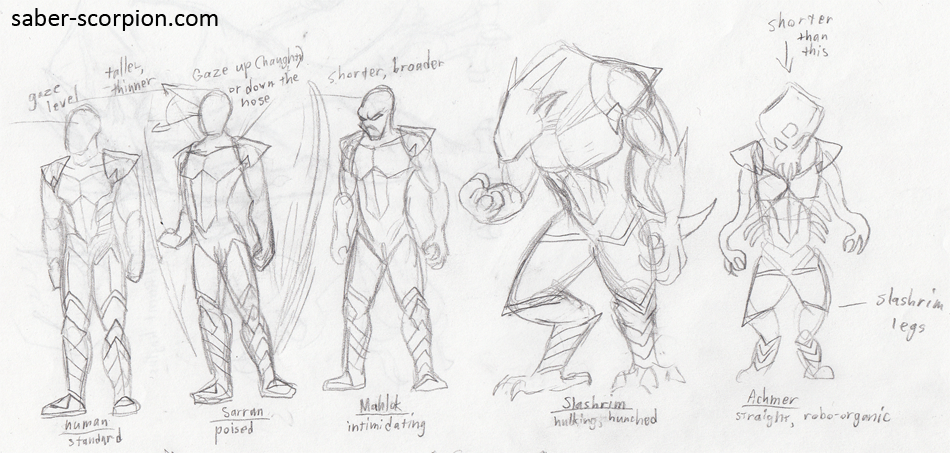 So I read this article about how Blizzard tried to give all the different races in World of Warcraft a unique silhouette, as defined by their hight, build, and posture. This was my attempt to define the races of Nova Refuge in a similar manner and see how the same basic suit of armor might look on each of them. You know, in case there's a Nova Refuge RPG someday.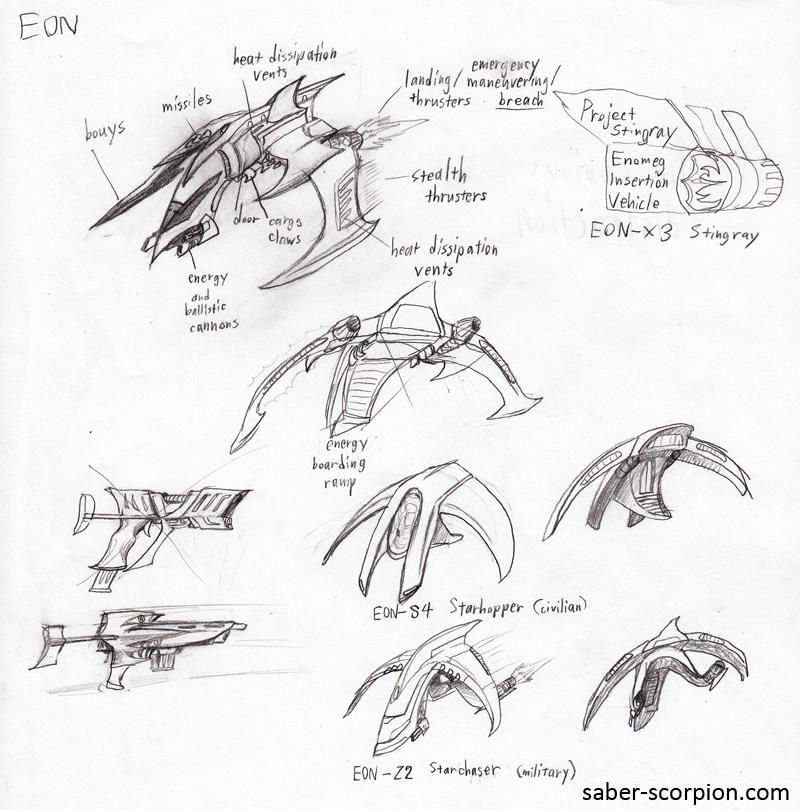 Some ship ideas for Nova Refuge. The ship at the top is my attempt to design basically the coolest-looking ship I could to serve as the "Enomeg insertion craft" nicknamed Project Stingray (a reference to my old Star Wars fanfiction). This ship may play a very important role in my books.
The basis for the shapes of the Starhopper and Starchaser at the bottom is a very strange one. When I was a kid, I used to make these weird shapes with my fingers and then pretend my hand was a spaceship and make it fly around the room. yes, you read that right.
This is my attempt to interpret those crude shapes into what my young imagination was actually seeing.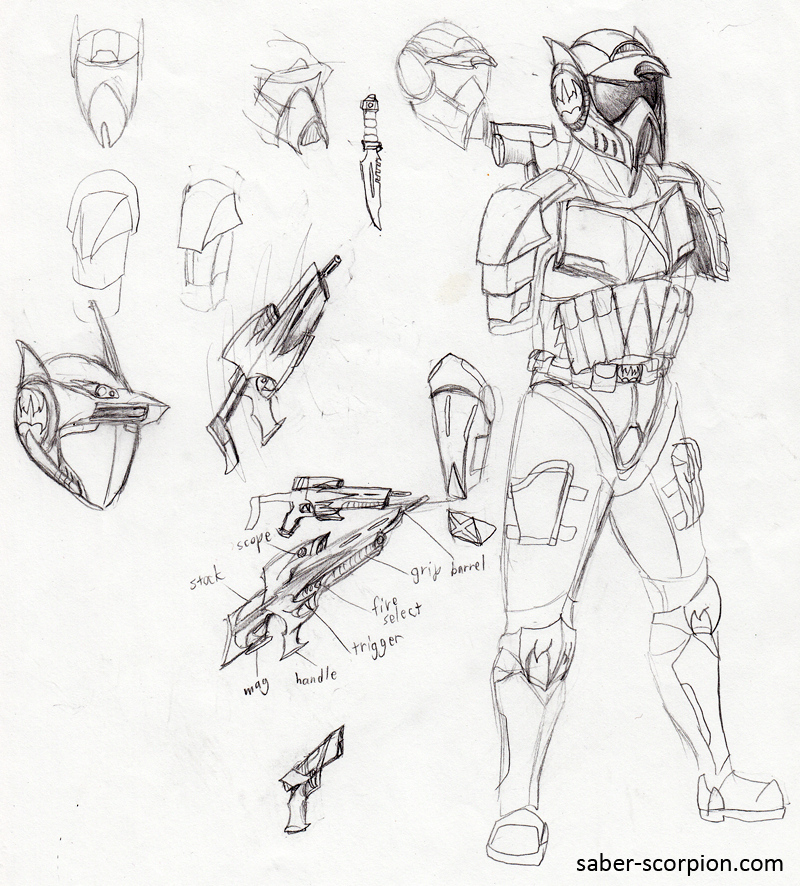 Some sketches of Xarkon armor, when I was trying to interpret my LEGO minifigs into a suit of armor I could use in my Warbringer comic. Yes yes, the guns are total crap, right? Anyway, you should recognize this from the Nova Member rank icons. This is where I came up with the helmet designs you see on those.
That's all for now! But I have some more sketches lined up for posting later.