If you're reading this then you must have some general interest in making awesome armies with LEGO. Alternatively, you're curious on how I do this. Well, it doesn't matter why you're here, I'm going to go into this! More importantly, I will literally be using this topic to showcase building my next army. That's right! Rather than wait for the final reveal, which I typically do, I'm going to walk through my process and thoughts as I build my next army.
Let's get into this!
For starters, what the heck is an army?
According to the Webster, it is an organized military force equipped for fighting on land.
"Duh, Nick, we already know that!" Of course you know that! I specifically want to highlight the whole, "organized military force," bit of it. Now, a lot of times when people want to put together a LEGO army, the first thing they think of is this:
This is a massive clone army. People are taken in by the sheer number of minifigs and set that as their primary goal. That's fine; shoot for the stars! However, acquiring that many minifigs can be a daunting task. More importantly, the average LEGO enthusiast, you don't have the resources to do so! That's 100% fine! Why? Because an army doesn't need to consist of massive troop numbers. Truth be told, for MOC'ing purposes, most people typically end up using 30-35 minifigs. Others might have specialized groups that are roughly a size of 10. Of course, some go for smaller numbers. In the end, it doesn't quite matter; they just need to be an organized military force. I'll touch on the whole "organized" thing a bit later.
Now, before you even consider building an army, the following questions need to be answered:
1) Where is your army from? 
- Everyone has a home, even if it's the road.
2) Who's leading this army?
- Are they a King, a Queen, Emperor, or is this a motley group of militia led by a village elder?
3) Under what banner/colors do they unite?
- All armies need some form of recognition! Maybe it's an emblem that exists, maybe it's the colors, perhaps it's the type of weaponry they use.
These three questions should give you a solid foundation for starting your army. I should mention that at this stage of planning, you probably won't have any minifigs assembled yet. That's okay! You shouldn't have any minifigs built, or if you do have any, they should be at very low numbers.
"Can you show us an example?" Sure thing! Without further ado, let me introduce the next army I'll be building!
The next army is *drum roll please* ...
----
The Army of Bara-Gol (Orcs).
----
1) The orcs are from the lovely little land of Altrairia (left side of the map).
2) Warchief Gromack Urgol
3) They unite specifically under the following emblem: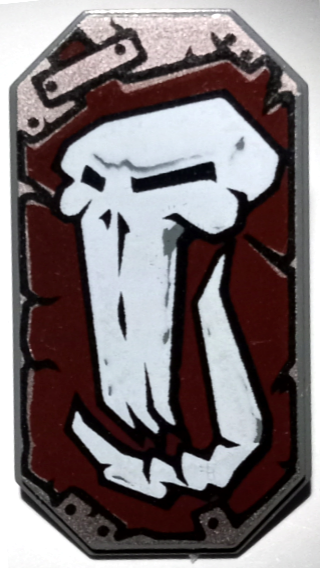 And there ya go! The first couple of questions answered! From here, I'll be able to build off of this and eventually create a complex faction!
Anyways, that's all for now! Next time, I'll talk about the, "The Number Game," which will fully delve into army sizes and divisions.
Hope you enjoyed, and have an awesome day!